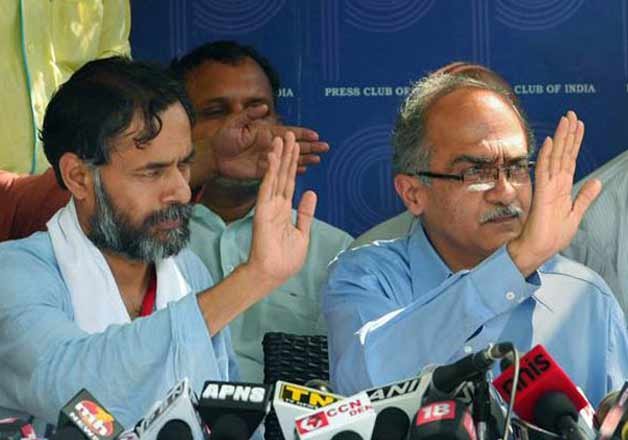 New Delhi: Around 350 AAP volunteers and leaders in Maharashtra, on Monday, quit the party in protest against its leadership and joined the Prashant Bhushan and Yogendra Yadav led campaign Swaraj Abhiyan.
As per a report in Times of India, a former state executive committee member of AAP unit of Maharashtra Maruti Bhapkar said, "We are hurt and upset. As many as 350 volunteers and leaders resigned from AAP today and the number will increase when we start to sensitize everyone about democracy being murdered in AAP".
Bhapkar, a founder member and council member, said that the disillusioned volunteers and leaders from all over Maharashtra had joined him. He said the way NC meeting was handled upset a lot of people.
The way senior leaders conducted themselves and the things they said at the kisan rally in Delhi made the party supporters realize that they cannot work like this anymore. Hence, he further said, "We are now supporting Swaraj Abhiyan".
Bhapkar claimed that he has support from volunteers in Mumbai, Vidarbha, Nasik and Pune.
Swaraj Abhiyann campaigns are being conducted aggressively by the Yadav-Bhushan duo in several cities where they have been scoring significantly.
Recently, Yadav also visited the Moga molestation victim's parents while Bhushan held a Swaraj Samwad rally in Ludhiana. Delhi leadership has still not visited the victim.
Meanwhile, senior leader Mayank Gandhi remarked that the resignations would not affect the party anyway.