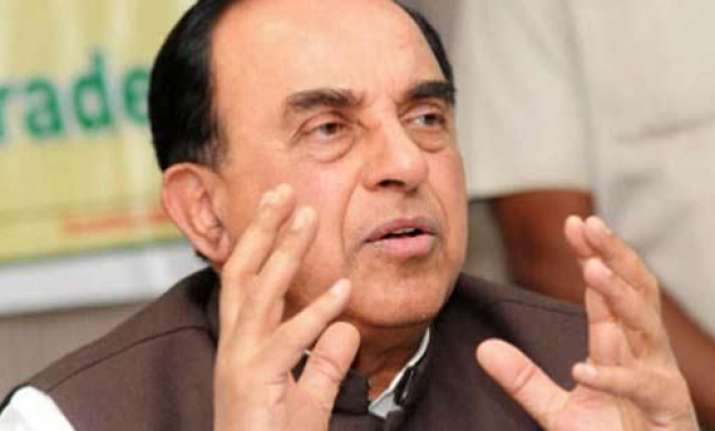 New Delhi, July 18: A Delhi court hearing the 2G case Thursday reserved its order for July 23 on Janata Party chief Subramanian Swamy's plea seeking a copy of former telecom minister A. Raja's statement to the Joint Parliamentary Committee (JPC).
Central Bureau of Investigation Special Judge O.P. Saini, who is trying the 2G case, concluded hearing the arguments during which Swamy said that Raja's written statement to the JPC was an important piece of document "to reach at the truth and the logical conclusion" in the 2G case.
Swamy told the court that Raja's statement given before the JPC was "not a privileged or confidential document and it can be summoned".
Examination of witnesses of the CBI was incomplete as they had not discussed the meetings which took place regarding the allocation of 2G spectrum during Raja's tenure as the telecom minister, Swamy said.
Swamy said that Raja's statement to the JPC spoke about various meetings which took place regarding allocation and pricing of the spectrum.
He also pressed for summoning of then finance ministry officials Sindhushree Khullar and Shyamala Shukla as witnesses to explain about the file notings during those meetings.
Swamy in his application said: "In order to ensure that all aspects of the case are examined, actual culprits may be booked, tried and punished it is necessary to summon the complete written statement filed by A. Raja before the JPC."
"It has come to the knowledge of the complainant (Swamy) that the written statement gives a detailed account of the official meetings held between the prime minister, the finance minister and the accused in December 2007 and January 2008 to formulate and finalise the rules and regulations for the 2G spectrum allocation by the then government," Swamy said in the application.
Apart from a copy of Raja's April 22 written statement to JPC chairman P.C. Chacko, Swamy also sought the draft report of the JPC, the Public Accounts Committee and also the statements of Shyamala Shukla, the then director of infrastructure, and Sindhushree Khullar, the then additional secretary, economic affairs department, to ascertain the truth.