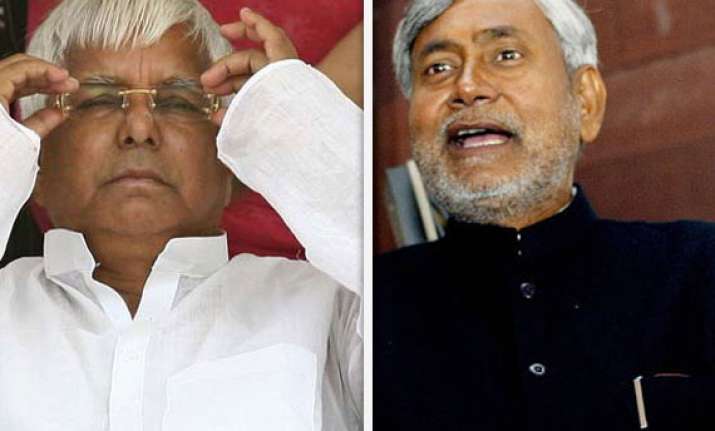 Patna: The 2014 Lok Sabha poll brought a windfall for NDA which won 31 out of the 40 Lok Sabha seats in the state, while routing the JD(U) and RJD.  The total tally of BJP and its allies was only one short of the 2009 figure when it contested under the leadership of Nitish Kumar in the state.
Riding on the Modi wave BJP candidates romped home in 22 seats. BJP had won only 5 seats in 2004 and 12 in 2009.  The BJP vote percentage which was 14.57 per cent in 2004 and 13.93 per cent in 2009 poll increased to a huge 35 per cent this time.
Actor turned politician Shatrughan Sinha, who was shown black flags during campaign, won with an impressive margin of 2.65 lakh against nearest Congress rival Kunal Singh.  Former union home secretary R K Singh fielded by BJP won comfortably from Arrah.
BJP's Rajiv Pratap Rudy emerged as the giant killer defeating RJD's Rabri Devi at Saran considered the pocket-borough of Lalu Prasad.
The general elections also saw the success of BJP allies LJP and Rashtriya Lok Samata Party of Upendra Kushwaha.  Besides, winning his own Hajipur seat, Ramvilas Paswan who had a pact with BJP in seven seats won six of them.  Its only losing candidate Satyanand Sharma at Nalanda also put up an impressive show in Kumar's home constituency of Nalanda but was humbled by Kaushlendra Kumar only by 9,627 votes.
RLSP of Upendra Kushwaha, friend-turned foe of Nitish Kumar, won all the three seats it contested.  Once a close aide of Lalu Prasad, Ramkripal Yadav who defected to BJP after denial of a ticket defeated Prasad's daughter Misa Bharti in Patliputra seat by over 40,000 votes.  BJP's Muslim poster boy Shahnawaz Hussain lost to Shailesh Kumar alias Bulo Mandal in the Bhagalpur seat by 9,485 votes.  Three times MP Uday Singh also lost at Purnea at the hands of JD(U) Santosh Kushwaha.
The poll proved fatal for the JD(U) led by Bihar Chief Minister Nitish Kumar, who had taken a risk by breaking ties with BJP over elevation of Narendra Modi.  The JD(U) which had bagged 20 seats in 2009 could only secure two this time.
Many of its senior leaders like Sharad Yadav and state ministers lost but the party managed to win the Nalanda seat considered pocket borough of Nitish Kumar by a small margin of 9,627 votes.
JD(U) which had contested 38 seats and had an alliance with CPI in two seats won only in Purnea and Nalanda. Its candidate managed to come second only in four seats.  JD(U) the vote percentage of which was 22.36 per cent in 2004 and 24.04 per cent in 2009 declined substantially.  The poor run for Kumar continued even in the bypolls in five Assembly seats with the JD(U) winning only Kochadhaman seat. RJD won three seats.
The results in Assembly bypoll boded bad times for Kumar whose government managed to scrape through a trust vote with the help of 4 Congress MLAs and 4 Independents and a CPI legislator in the House of 239 where the magic figure was 122.  The elections was also a disappointment for RJD chief Lalu Prasad who was eyeing a comeback in the state politics after allying with the Congress.
RJD managed to retain its tally of 4 seats as it had in 2009, but the sad story for Prasad was that he failed to ensure the victory of wife Rabri Devi and daughter Misa Bharti in the Saran and Patliputra seats.
RJD candidates came second in 20 seats. In 2004 RJD had secured 22 seats.
RJD had 30.67 per cent vote in 2004 when it had a tie up with the Congress which declined to 19.31 per cent in 2009 when it contested minus Congress.
Ally Congress hoping to ride piggyback on Prasad could win only two seats of Kisanganj and Supual.  But, luck smiled for NCP whose General Secretary Tariq Anwar who won the Katihar seat by defeating BJP rival Nikhil Chaudhary by 1,14,740 votes.