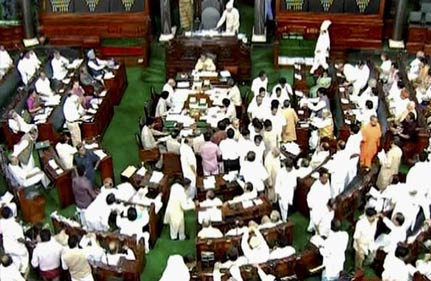 New Delhi, Nov 26: The logjam in Parliament over the demand for a JPC probe into the 2G spectrum allocation continued for the 11th day today with both Houses adjourning till Monday.
Both Lok Sabha and Rajya Sabha, however, witnessed a brief spell of calm in the morning after days of uproar when statements paying tributes to the 26/11 victims were read out by Chairman Hamid Ansari and Speaker Meira Kumar.
The Opposition forced adjournment of Rajya Sabha thrice - two in the pre-lunch sitting and then for the day - keeping up pressure on the government for a Parliamentary probe into the 2G Spectrum issue.
Every time the House met, Opposition members including members from BJP and AIADMK trooped into the well and shouted slogans in support of their demand for JPC.
The Upper House even witnessed a scuffle after a DMK member displayed a placard against AIADMK supremo Jayalalithaa which infuriated her party members who tried to snatch the papers.
The Chair called it a day at 2:30 pm when the House was scheduled to take up private members' bills.
In the Lok Sabha too, calm was witnessed for a brief while when the House took up the obituary reference in memory of the 26/11 victims.
An Independent member elected from Banka in Bihar, Putul Kumari, took oath.
But the moment the Speaker took up the Question Hour, Opposition members from BJP, Shiv Sena, BJD, SP and AIADMK trooped to the well demanding a JPC probe into alleged irregularities in 2G spectrum allocation.
Congress members were simultaneously on their feet demanding resignation of Karnataka Chief Minister B S Yeddyurappa over allegations of wrong doings in land allotments in the state. They also raised placards demanding dismissal of BJD government in Karnataka on the Vedanta land deal issue.
'Follow footsteps of Congress to save Karnataka from the worst ever Chief Minister' read a placard waved by a Congress member, while another showed a placard saying 'Sack (Orissa Chief Minister) Naveen Patnaik'.
The Opposition members displayed copies of newspapers carrying reports, including those on Supreme Court asking CBI why it had not questioned former Telecom Minister A Raja.
As the din continued, Kumar adjourned the House till noon. Later, Lok Sabha was adjourned till 1530 hours to take up private members business.
Similar scenes were witnessed then the House reassembled with opposition members raking up the same issue and trooping into the well in support of their demand for JPC.
Parliamentary Affairs Minister P K Bansal said Congress MPs have collectively decided not to take DA for the days Parliament did not work. PTI