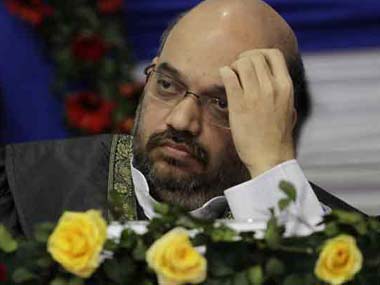 Bihar Chief Minister Nitish Kumar will meet Bharatiya Janata Party (BJP) president Amit Shah first over breakfast and then over dinner on Thursday, said BJP state president Nityanand Rai to news agency ANI.
The meeting gains significance after JDU's consistent insistence for playing big bother role in Bihar and on that BJP's comment on Monday that "no one is the big brother except the people".
It is pertinent to mention here that since a long time JDU is saying that Bihar Chief Minister Nitish Kumar will play a big brother role in the state during the Lok Sabha elections 2019.
The NDA which had won 31 seats in Bihar is witnessing claims and counter-claims made by leaders of NDA constituents after JD(U) returned to its fold. Old partners -- BJP, LJP and RLSP -- had won 22, 6 and 3 seats respectively while JD(U) which had fought separately with the Left parties had managed only two seats in the last parliamentary poll. 
Catch all the latest news about Indian politics HERE
The BJP on Monday rejected its ally's contention of playing the role of a big brother and that CM Nitish Kumar will be the NDA face in Bihar during the 2019 general elections.
"No one is the big brother except the people. The state's people are the only big brother. Prime Minister Narendra Modi is the National Democratic Alliance leader and its face in the 2019 polls," said BJP spokesperson Sambit Patra.
Nitish Kumar on Monday delivered a combative address at his party's national executive meeting, saying he will always oppose corruption, crime and communalism and those thinking of marginalising his party will stand marginalised. 
Last week, senior JDU leader K.C. Tyagi also said, "The JDU will be a big brother in seat- sharing for the 2019 polls in Bihar. The party will contest more seats."
Catch all the latest news about Lok Sabha elections 2019 HERE
Meanwhile, BJP leaders played down the JDU's reported differences with their party over a host of issues.
Shah will be in the state as part of his nation-wide tour to review and strengthen the BJP's preparations for the general elections. 
(With inputs from agencies)