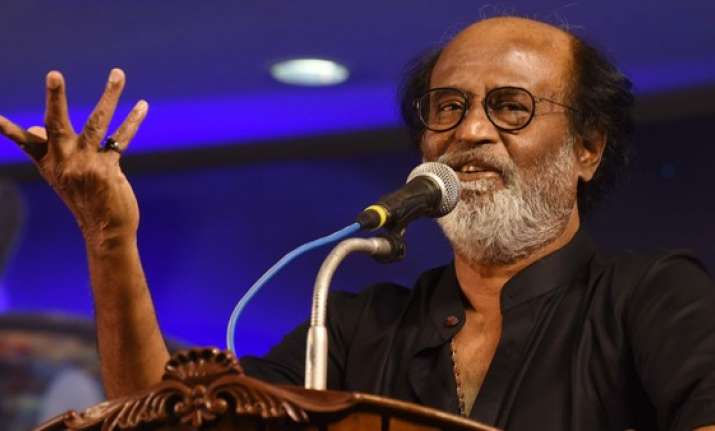 "If God wills it, I will enter politics tomorrow." It was with these words that superstar Rajinikanth on the first day of his meeting with fans, held after eight years, created a storm in political circles as well as his fans over his possible entry into Tamil Nadu politics. 
Though Rajinikanth maintained that he has no political aspirations, but there has been speculation around the actor possibly launching his own political outfit to fill in the void that has been left in state politics after the demise of popular Chief Minister J Jayalalithaa. 
On the last day of his meet-and-greet today, Rajinikanth's fans were expecting something major, perhaps an announcement. However, what Rajinikanth said has left them guessing over what their beloved star has in store. 
The speech Rajinikanth delivered today appeared to be a fierce political pitch, but then he did not go all the way. Whether he will or not join politics still remains anonymous for his fans. 
"I was in Karnataka only for 23 years and have been in Tamil Nadu for more than 40 years. I am a pure Tamil, you have made me a Tamil," said the 66-year-old actor, who was born Shivaji Rao Gaekwad in Tamil Nadu's neighbouring Karnataka.
The actor's statement was one that sought to establish him as a son of the soil – something that his detractors sought to question when they referred to him as an 'outsider'.
In what appeared to be another statement of political intent, Rajinikanth today urged his fans to wait for the "impending war". 
In no less than a vote appeal he also sought the support of his fans saying, " Go home and do your work. The day we have to fight the war, we will take care of it. I will call you when there's a war. You come then. In the old days all men would go when there was a war," said Rajinikanth on the final day of his five-day initiative in Chennai to meet fans from all over Tamil Nadu.
The actor, who many in Tamil Nadu believe can fill the leadership vacuum in the state, also spoke of a need to cleanse the system of corruption. 
"The system is corrupt, we all need to work together to change it," he added. 
Reacting to hostile comments against him on social media recently, the superstar welcomed it and stated that opposition is a basic necessity to grow in politics.
Rajinikanth praised the Tamil Nadu Assembly opposition leader M K Stalin, calling him an able administrator. He also acknowledged other leaders like PMK youth wing leader Anbumani Ramadoss, VCK chief Thol. Thirumavalavan and Naam Tamilar Katchi leader Seeman 
"Cho Ramaswamy used to say that Mr. Stalin will do wonders if he is given a free hand. He is a good administrator. Anbumani Ramadoss is also a well educated man with good ideas. Seeman's ideas have amazed me at times. But, the system itself is rotten. Democracy is rotten. The way people think of democracy has changed drastically. People's notion about democracy needs to change," he said. 
The anticipation among his fans in Tamil Nadu is also justified by the frail health of Amma's 92-year-old arch rival M Karunanidhi of the DMK.
However, whenever his fans have been vocal or proactive about his political plunge, the actor has either remained silent or distanced himself away from the topic.
Twice his supporters and actors have come out in the open floating some 'party' or 'outfit' in a bid to pressure Rajini, as he is fondly called, to enter politics .
It is not uncommon for his fans across the state to frequently put up posters urging him to come and 'lead' and 'save' Tamil Nadu. Even party flags had been launched by some fans in the past, but the actor had either remained silent or distanced himself from fans who resorted to such actions.
Many political parties, barring AIADMK, had been wooing him. However, he was on good terms with Jayalalithaa in the recent past and had even rued he had 'hurt' her back in 1996 by being critical of her.
In his latest comments, Rajinikanth had said he had no desire to joins politics, but if he did, he would show the door to all "money-minded" people. He was often dragged into political debates despite stressing that he was "neither an influential political leader nor a social activist." 
"My name has been dragged into politics for the past two decades. I am pushed to clarify during every election that I'm not affiliated to any political party," he had said early this week. 
Incidentally, in his film 'Muthu' (1995), he mouthed lyrics in a song saying "why should I launch a party now, (but) its only time will tell that."