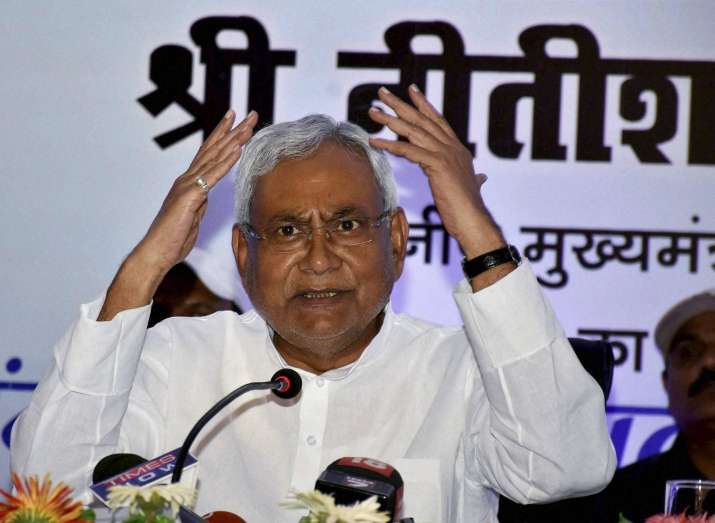 Former Railway minister and Bihar Chief Minister Nitish Kumar on Wednesday criticised the NDA government's decision to do away with a separate Railway budget and merge it with General budget saying the move end the autonomy of the largest public carrier in the country.
"Merging Rail budget and General budget won't do any good, it will lose its autonomy," Nitish said here.
Making a strong point against ending the over nine-decade old tradition of presentation of separate Rail budget in Parliament, he asked the NDA government at the Centre to rethink its decision.
The Union Cabinet today approved advancing presentation of the annual Budget by a month, scrapped over nine-decade old tradition of having a separate Railway Budget and removed classifications for expenditure to make the exercise simpler.
The cabinet also approved the Finance Ministry's proposals to reform the entire budgetary process, including advancing the date of budget presentation and dropping the plan and non-plan expenditure distinction.
Announcing the decision, Finance Minister Arun Jaitley said that the functional autonomy of Indian Railways will continue to be maintained.
"Based on my personal experience as Railway minister I can say the decision will have no benefit," said Kumar, who was Railway minister during NDA government of Atal Bihari Vajpayee.
"It seems Railway is not on priority of the NDA government at the Centre...this step would end autonomy of Railway," he told reporters emerging from a press conference on International Sikh conclave.
Railway is means of transportation of poor people who have an unbreakable faith on the largest public transporter, he added.
"Common man has faith on Railway which would be dented by this decision," Kumar said.
Presentation of a separate Railway budget has been a tradition which all the successive governments followed earlier, he said.
Counting virtues of separate Railway budget, Kumar said the dividend paid by Railway to the government is decided by Parliament.
Attraction of MPs for Railway budget is so deep that I have seen Parliament deliberating the entire night on Rail budget, he said.
After the merger of Railways and General Budgets, the Indian Railways is expected to save about Rs 10,000 crore annually as it will not have to pay dividend to Ministry of Finance anymore.
The practice of presenting a separate Railways Budget was introduced way back in 1924. However, a committee of experts headed by renowned economist Bibek Debroy had recommended the merger of the union and Railways budgets and the government has accepted the proposal after Railways Minister Suresh Prabhu gave his nod and forwarded it to the Finance Ministry.