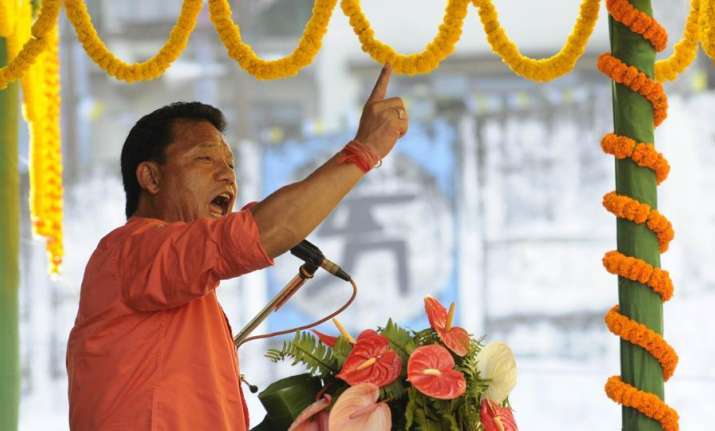 Janmukti Morcha (GJM) chief Bimal Gurung today vowed to continue the movement for separate Gorkhaland state and warned of "trouble" if the police try to stop the protesters. His warning came as thousands of protesters assembled at the central Chowkbazar carrying the body of a GJM activist, who was killed during clashes with police on Saturday, and raised slogans demanding a separate state of Gorkhaland. 
"We will continue our movement, if police try to stop us, it will create trouble," Gurung warned.
He also rejected West Bengal Chief Minister Mamata Banerjee's charge that the GJM has connections with North East based militant groups and said that "she is trying to divert our movement."
Banerjee had yesterday said that the ongoing agitation in Darjeeling hills was a "deep-rooted conspiracy" supported by the insurgent groups of the Northeast and some foreign countries. 
The GJM had rubbished the allegation made by Banerjee, saying that she was trying to malign the Gorkhas fighting for their identity.
Rajnath appeals for peace
Meanwhile, Home Minister Rajnath Singh, who spoke to Mamata Banerjee on the situation in violence-hit hill district of West Bengal, appealed for peace saying that "every issue can be resolved through mutual dialogue."
"I appeal to the people living in Darjeeling and nearby areas to remain calm and peaceful. Nobody should resort to violence. In a democracy like India resorting to violence would never help in finding a solution," the minister said.
"Every issue can be resolved through mutual dialogue. All concerned parties and stakeholders should resolve their differences and misunderstandings through dialogue in amicable environment," Rajnath said.
Heavy security deployment 
Security personnel in large numbers were deployed in the hills today after widespread clashes between GJM activists and the police were witnessed yesterday. 
The protesters, carrying the body of a GJM activist, black flags and the Tricolour, assembled at the Chowkbazar. They shouted slogans demanding that the police and security personnel be "immediately removed" from Darjeeling. 
"We think the police and security personnel should be immediately removed from Darjeeling to create conducive environment for talks. The government should allow us to carry out peaceful and democratic agitation," Darjeeling MLA Amar Rai of the GJM told reporters here. 
The GJM has claimed that three of their supporters were shot dead by police in the Hills yesterday. The police rejected the allegations of firing by its personnel, and said one person was killed during the clashes. 
This was the first death since violent protests returned to Darjeeling on June 8, after a gap of a few years. 
The police, who have been on high alert after yesterday's violence and arson, conducted route marches with the Army in several parts of the hills. 
Police pickets and barricades were placed in front of the government and GTA offices, and various entry-exit points of the hills. Several woman police personnel have also been deployed.