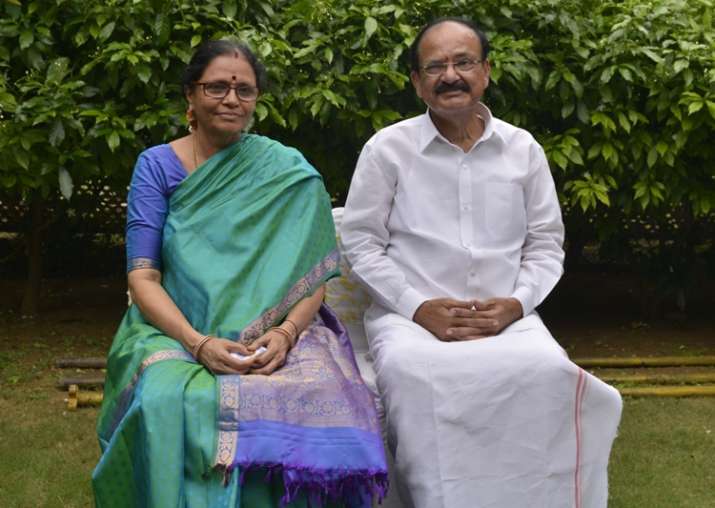 NDA nominee M Venkaiah Naidu was today elected as the next Vice President of India by securing over two-thirds of votes leaving opposition candidate Gopalkrishna Gandhi far behind. Naidu got 516 votes out of total 771 votes cast while Gandhi could only manage 244 votes. Of the total 771 votes polled, 11 were found to be invalid. Although 785 MPs are there in both the Houses of Parliament, 14 MPs could not vote.
Naidu will be the 13th person to hold the second highest Constitutional post in the country. 
The strength of the electoral college comprising both elected and nominated MPs of Rajya Sabha and Lok Sabha is 790. While there are two vacancies in the LS, three seats are vacant in the RS also. One BJP Lok Sabha MP is barred from voting following a judicial pronouncement. 
India TV brings to you 10 things about Naidu: 
1. Naidu, 68, entered the RSS by accident – his links began in childhood when he chanced upon a 'shakha' while playing. Within some decades, he was the BJP's best known leader from southern India, one famous for witty one-liners.
2. A key member of Prime Minister Narendra Modi's Cabinet, Naidu cut his political teeth during the Emergency when he went underground against the government of Indira Gandhi and eventually got jailed. He remained underground until his arrest, distributing anti-government literature in educational institutions in Andhra Pradesh and Tamil Nadu, travelling on a scooter along with a woman activist on pillion in a bid not to arouse suspicion. He was accused of disturbing a meeting of Sanjay Gandhi and handcuffed during transit from one jail to the other.
3. Naidu hit the national scene when he was one of the prominent opposition spokespersons along with S Jaipal Reddy, who was then in Janata Party, during the campaign by NT Rama Rao after his dismissal as the Andhra Pradesh Chief Minister by Indira Gandhi in the 1980s.
4. A quick-witted and effective communicator steeped in RSS/BJP ideology, Naidu rose from the ranks to become the party President and a Union Minister. 
5. Naidu has been a trouble-shooter for the government as also one of its best communicators with his alliterative and catchy one-liners. He has friends across political parties. It will help him as Chairman of the Rajya Sabha where the BJP still does not have a majority.
6. Naidu is quick to respond to criticism from the opposition. He has handled key organisational assignments in the BJP and became its President in 2002.
7. Naidu had three continuous terms in the Rajya Sabha from Karnataka from 1998 to 2016, when he shifted to Rajasthan to get a fourth term.
8. He was Rural Development Minister during the first NDA government led by Atal Bihari Vajpayee, his inspiration along with senior party leader LK Advani.
9. With Modi scripting BJP's success in 2014, Naidu described him as the most popular Indian leader, the most credible political personality and among the top 10 leaders of the world. He is credited with coining the acronym MODI – 'Making Of Developed India', a BJP favourite.
10. He was President of the youth wing of the Janata Party in Andhra Pradesh from 1977 to 1980. After Emergency, he was elected to the Andhra Pradesh assembly in 1978 and was a legislator till 1985. After the BJP was formed in 1980, he became Vice president of its youth wing. He was leader of the BJP Legislature Party in Andhra Pradesh, state general secretary and state unit chief. Naidu was the BJP general secretary in 1993-2000 and its spokesperson in between.
Personal life:
Born on July 1, 1949 in Nellore district of Andhra Pradesh, Naidu was President of the Students Union, V.R. College, Nellore. In 1973-74, he was president of the Students Union of Andhra University Colleges. Naidu pursued law and was involved in the movement launched by Jayaprakash Narayan.