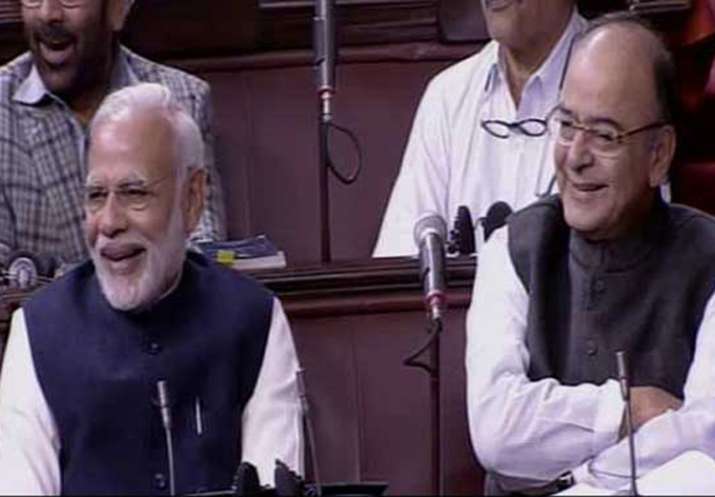 After days of disruptions, proceedings in the Rajya Sabha began on Thursday as opposition's demand that Prime Minister Narendra Modi be present during debate on demonetisation was fulfilled.  
The debate began with former Prime Minister Manmohan Singh's speech who castigated the government and PM Modi, in his presence, over the demonetisation move.  
Samajwadi Party MP Naresh Agarwal, who spoke after Manmohan Singh, provided some humour in the House which has been quite tense during the Winter session.  
Referring to comments made by some politicians that even Finance Minister was not taken into confidence by the Prime Minister, Agrawal jokingly said, "There are those who say the PM did not take (even) Arun Jaitley into confidence (about the notes ban). If Arun ji had known, he would have whispered this to us, he knows me." 
The House erupted in laughter and both Modi and Jaitley were seen laughing out loud. 
Referring to Modi's speech in Goa where he had said that some people "may not let me live", Agarwal said, "Don't worry for your safety at least in Uttar Pradesh," evoking further laughter from the PM. Uttar Pradesh is governed by Naresh Agarwal's Samajwadi Party.  
Agrawal alleged that the demonetisation of high value currency was done keeping the upcoming Uttar Pradesh assembly elections in mind. He said his party was opposed to the move as it was implemented in a hurry and as a result it had not been successful.  
"The Bharatiya Janata Party (BJP) indulged in theatrics against black money to divert voters' attention ahead of the assembly elections in the state," he added.  
Agrawal pointed to the inconveniences of the lower and middle classes on account of the sudden demonetisation of Rs 500 and Rs 1,000 notes and asked: "Which industrialist, politician, IAS/IPS officer or protector of terrorists is standing in queues today?" 
He sought to know why no initiatives were taken against unaccounted money hoarded abroad. "There has also been no action against Vijay Mallya."