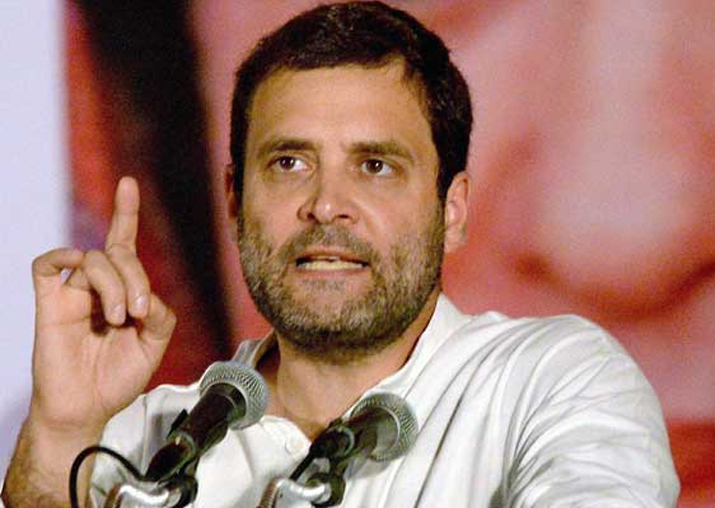 Congress vice-president Rahul Gandhi today kicked off Congress' campaign in poll-bound Himachal Pradesh and announced that incumbent Chief Minister Virbhadra Singh will be the party's chief ministerial candidate.
Addressing a rally at Paddal ground in Mandi, Rahul also targeted Prime Minister Narendra Modi on the issue of unemployment, demonetisation and "hasty" implementation of Goods and Service Tax(GST).
Backing the Chief Minister, Rahul said that Virbhadra Singh, 83, has ensured uniform development of the entire hill state and was confident that the Congress party would retain power.
"Virbhadra Singhji, You became Chief Minister six times and I assure that you would become chief minister for the seventh time also and the entire Congress party stands behind you)," he said addressing the "Vijay se Vikas ki Aur" rally, four days after a BJP rally at Bilaspur that was addressed by the Prime Minister.
Taking on the Prime Minister on the issue of unemployment, the Congress leader alleged that the NDA government had failed to fulfill the promise to provide jobs to 2-crore people. "And the ground situation is that 30,000 job seekers are being added every 24 hours but only 450 persons are getting jobs per day while our competitor China is giving jobs to 50,000 persons every day."
"The hasty implementation of GST resulted in loss of 30-lakh jobs," he alleged, adding it caused inconvenience to traders. Demonetisation led to a drop in GDP and badly hit the common man, he said.
Mocking at the Gujarat model, Rahul compared the development of Himachal Pradesh and Gujarat on different parameters to claim that the hill state fared better.
Watch Congress VP Rahul Gandhi's 'Vikas se Vijay' rally in Mandi, Himachal Pradesh. (1/2) #JawabDegaHimachal pic.twitter.com/g5prf2nZqv

— Congress (@INCIndia) October 7, 2017
Referring to the plight of farmers, Rahul said that maximum suicides are taking place in the BJP-ruled states.
Addressing the rally, Virbhadra Singh said that his government ensured uniform development without any other consideration and said that development would be the main election plank of the party in the upcoming assembly polls.
Deputy leader of Congress party in Rajya Sabha, Anand Sharma said that the credit for development of the country goes only to the Congress and asked the people to bring the party to power for the sake of the country.