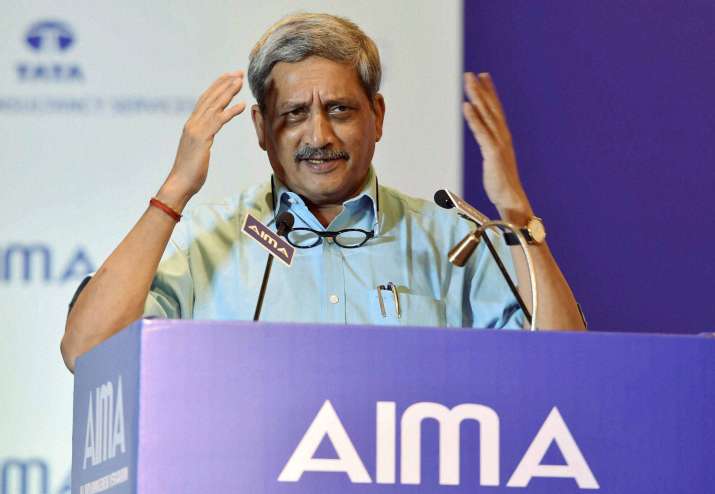 Asking the government to fix responsibility in the Uri attack, Congress today demanded Defence Minister Manohar Parrikar's resignation, claiming he lacks commitment and focus
Congress spokesman Abhishek Manu Singhvi said that Parrikar wants to be the chief minister of Goa and not focusing on his job as the defence minister.
"In quick succession, we have had two dastardly attacks on army installations. This is an unfortunate novelty in the war by terrorists. Accountability should be fixed for repeated and recurring tactical, operational and strategic failures," he told reporters. 
Parrikar projects that he is either the proxy Chief Minister of Goa or wants to be the Chief Minister. In either case, the casualty cannot be India's defence minister, he said. 
"We demand immediate remedial action and not jumlas (gimmicks). India cannot be left to fish in troubled waters. 
This is too serious a matter...We cannot allow our brave soldiers to become fodder. There is complete operational, tactical, strategic and logistical failure," he said. 
"...He lacks commitment, focus and interest as his attention is over a thousand kilometres south of Delhi," Singhvi further said.  
Targeting the government, he wondered why is it that the Modi dispensation was attacking the Opposition through the media. 
"As if constructive criticism is an anti-national act. We would be failing our democratic duty as the Opposition if we did not bring out several facets of the unfortunate situation we find ourselves in," he said. 
Quoting from what Modi as the Gujarat Chief Minister had said during terror strikes in UPA days, he said, "Opportunistic and selective misuse of nationalism is the nature of BJP". 
Across all parameters, there has been a deterioration in the security situation, be it in fatalities in terrorist violence, ceasefire violations, or explosion since Modi took over, the Congress leader alleged. 
"This year alone, we have lost more soldiers than we have in the past six years. This is unacceptable," he said. 
Singhvi said Congress has always stood with the nation and extended constructive advice to the government. 
"Unless we introspect and strengthen ourselves, we will not be able to meet this threat. This threat is real and potent...We support whatever steps the government takes...," he said. 
Yesterday, Congress vice-president Rahul Gandhi had targeted Prime Minister Narendra Modi saying that the PM should remember that wars can not be won with event management.
"PM Modi talks of event management but he should remember that wars can not be won with event management," he said. 
He had said that the BJP's short-sighted alliance with the Mehbooba Mufti's PDP opened the space for terrorism in Kashmir.
"I condemn what Pakistan has done. However, the space for that has been created by politics that NDA has carried out in Kashmir," Rahul told reporters after a rally in Kanpur (Rural). 
The Gandhi scion hailed Manomohan Singh government's strategies vis-à-vis terrorism and said that the UPA government spent nine years fighting terrorism in Kashmir and succeeded in vanquishing the menace in the region.  
Noting that the NDA government has no strategy in Kashmir, Rahul said that the national security can not be handled like public meets as this is a serious matter. 
The terror attack at an army base in Jammu and Kashmir's uri resulted in martyrdom of 18 Indian soldiers.
The deadly terrors attack by four Jaish-e-Mohammed terrorists on the Army base in Uri on Sunday claimed the lives of 18 soldiers and left several others injured.