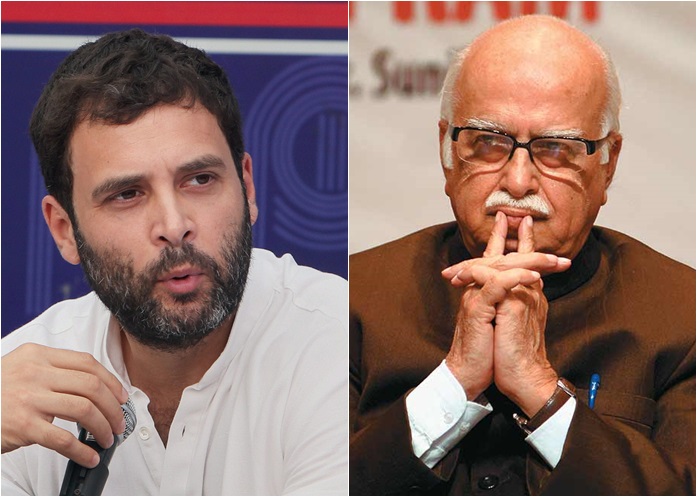 Not one to miss out on an opportunity to target the BJP-led NDA government at the Centre post demonetisation, Congress vice-president Rahul Gandhi today said that BJP's veteran leader LK Advani was 'fighting for democratic values within his 'party.
Rahul's comments came after LK Advani's said that he feels like resigning from Parliament because of unending disruptions in both houses over the demonetisation issue. 
"Thank you Advani ji for fighting for democratic values within your party," tweeted Gandhi, who had earlier accused Prime Minister Narendra Modi of being "autocratic". 
Meanwhile, Congress spokesperson Abhishek Singhvi said Advani is "clearly erating his own party" and not Congress, as being "twisted" by BJP. 
"Advani is an extremely senior parliamentarian and BJP is deliberately, consciously twisting these things to suggest that his angst and anguish is against Congress. It is ridiculous. Advani is clearly berating his own party. The positive proof is that you have seen today, yesterday and Monday and some other days," he said. 
"How can any party in the world with 323 majority (out of 543) in the Lok Sabha stand up with placards and ask a question, whether it is Agusta (chopper scam) or anything else, before the opposition which is asking for a debate? The Vice President of the opposition party (Congress) says we are desperate of a debate...and you are clearly avoiding it," he said. 
Advani vented out his pain and anguish soon after Speaker Sumitra Mahajan adjourned the House for the day amid trading of charges between the government and the opposition on smooth functioning of proceedings. 
The veteran BJP parliamentarian, who remained seated in his front seat, first narrated his feelings to Union minister Smriti Irani, who in turn drew the attention of Home Minister Rajnath Singh standing nearby. 
Advani was heard telling the Home Minister to convey to the Speaker that she should ensure the House runs tomorrow to have a discussion on note ban. 
The veteran parliamentarian has been seen in a pensive mood in Parliament during this session, unhappy over the frequent disruptions that have become order of the day. 
(With PTI inputs)