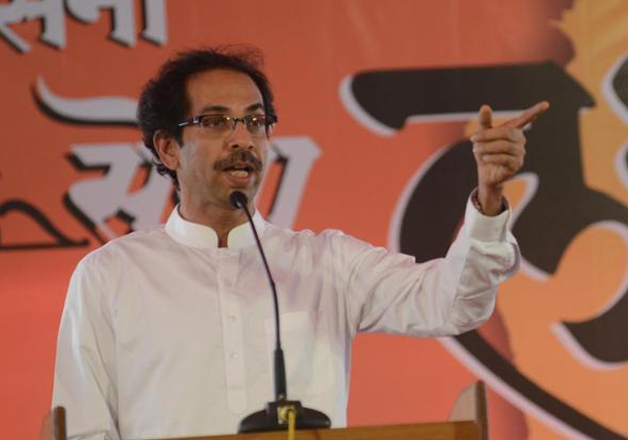 Shiv Sena chief Uddhav Thackeray on Sunday took a dig at the Narendra Modi government over 'poor' quality of ration being allegedly provided to soldiers.
Addressing an election rally here, he said that 'those who seek credit for the surgical strike across the border, should take responsibility of substandard food as well'. 
"Some people think the country was only born in 2014 (after the Lok Sabha polls). Soldiers conduct surgical strikes but they (the BJP) keep seeking credit for it. If you take credit for surgical strikes, also take responsibility of substandard food being provided to jawans as well," Uddhav said.
"They make statements (over surgical strikes) that makes us hang out heads in shame," he added. 
The Sena chief also hailed RSS chief Mohan Bhagwat's view that no one has the right to judge others' patriotism. 
"I congratulate Mohan Bhagwat. He has given a tight slap to the concerned people on patriotism issue," Uddhav said. 
Hitting out at the BJP over demonetisation move, he said it pained him to see so many people lose their lives. 
"Our jawans at the border live even after getting hit by 5 bullets. The same jawan had to commit suicide due to demonetisation. Pregnant women suffered due to the decision. I am pained to see (that) over 200 people lost their lives standing in queues. I am not like the stone hearted chief minister to make shameful comments supporting the move. How this decision of theirs will hit them hard will be shown on February 23," he said. 
"I feel ashamed of the Chief Minister," said Uddhav. Asking Fadnavis to stop "lying", Thackeray said the Centre's economic survey has pegged the BMC at the top of the list of transparent municipal corporations across the country. 
"The report has 'Satyamev Jayate' written on it. At least do not lie on this report," said Uddhav. 
"The BJP knows it can never win UP polls and has thus announced a financial package for farmers there. After 'note bandi', it is now time for 'BJP bandi'," he added.
Poll to the 227-member Brihanmumbai Municipal Corporation are slated to be held on February 21. Counting of votes for the BMC polls will be taken on February 23.