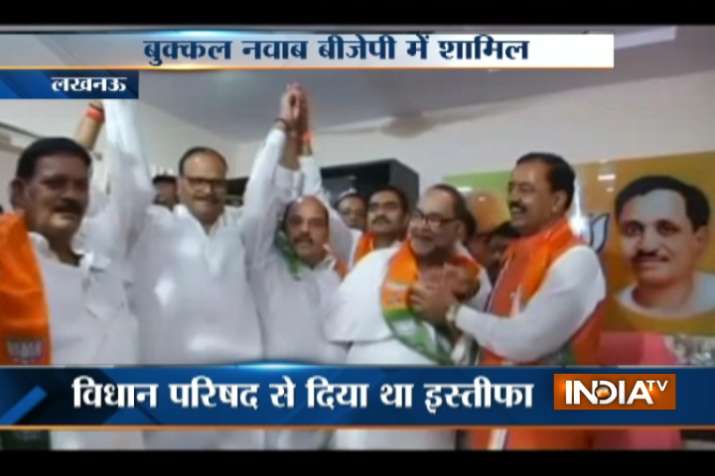 Three former members of the Uttar Pradesh Legislative council -- two from the Samajwadi Party and one from the Bahujan Samaj Party -- today embraced the Bhartiya Janata Party (BJP). While Bukkal Nawab and Yashwant Singh, were in the SP, Thakur Jaiveer Singh is a former BSP MLC. The three joined the BJP in the presence of the party's state chief and deputy chief minister Keshav Prasad Maurya. Deputy chief minister Dinesh Sharma was also present.
"The three MLCs have come to the BJP family reposing their faith in the policies of the BJP, while opposing the policies of SP and BSP. Party workers in SP and BSP were feeling harassed, but now they are feeling relieved. We welcome them, and hope that they will add strength to the party," Maurya said.
The three have reportedly resigned to make way for five of its ministers in Uttar Pradesh, including Chief Minister Yogi Adityanath, who are not members of either of the two Houses. Besides Adityanath, Deputy Chief Ministers Keshav Prasad Maurya and Dinesh Sharma, ministers Swatantra Dev Singh and Mohsin Raza have not been elected to either the state assembly or the legislative council.
The resignation of three MLCs on a day BJP president Amit Shah arrived here on a three-day visit.
Speaking to reporters after joining the BJP, Bukkal Nawab said the Akhilesh Yadav government had done "great injustice" to Shia community. Nawab, who had been with the SP since 1992, is the founder president of Rashtriya Shia Samaj.
Speaking on the occasion, Yashwant Singh said that he had joined the BJP unconditionally as it is a party of principles and ideals.
I have been influenced by Prime Minister Narendra Modi, he said.
"Maine apni seat Yogiji ke liye samarpit kar di hai (I have dedicated my seat to Yogiji)," he further said.
Nawab said that in the SP, injustice was done to the party workers. "BJP is democratic and party workers here are given respect," he said.
On July 29, the three had quit the Uttar Pradesh Legislative Council causing a disquiet among opposition parties in the state. After submitting his resignation, Nawab had said he was "feeling suffocated" in the party since the past one year.
The resignations of the sitting MLCs were accepted by Chairman of Legislative Council Ramesh Yadav.
Reacting on the development, SP chief and former Chief Minister Akhilesh Yadav had alleged that the BJP was behaving in an

undemocratic manner, by virtually keeping morality at bay.
"They should become MLAs after contesting the elections, and not by trying to make the sitting MLCs (Members of Legislative Council) resign. This is political corruption," he said.