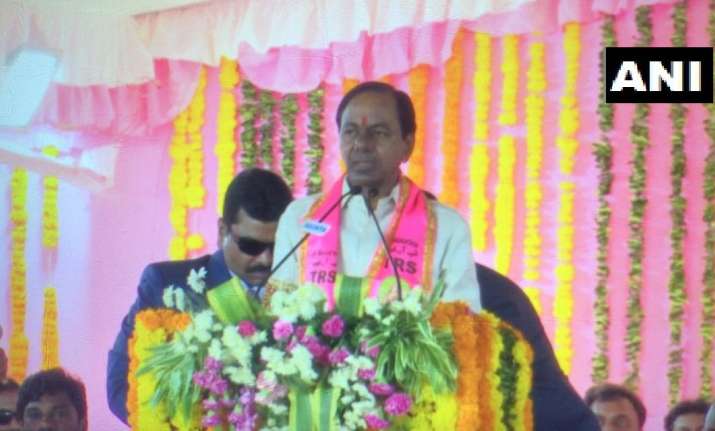 Thousands of people from across Telangana have congregated at Kongara Kalan near Hyderabad for Telangana Rashtra Samithi (TRS) rally. Carrying pink flags and wearing pink scarves, the party workers are reaching the venue in a show of strength. The rally was addressed by CM K Chandrashekar Rao later today
The party claims that 25 lakh people have turned up for the meeting, which, they say, is the biggest mobilisation of people by any political party in the country. Hundreds of buses, vans, tractor trolleys and cars carrying men and women from all 31 districts were heading to the sprawling venue in Ranga Reddy district. A lot of workers from Hyderabad, Ranga Reddy and surrounding districts were seen reaching the venue in motor bike rallies.
Chief Minister and TRS President K Chandrasekhar Rao addressed the public meeting christened 'Pragathi Nivedana' or progress report. At the meeting, Rao is expected to highlight the achievements of his government in the last four years.
The city has been painted pink by the TRS by putting up banners, flags, Rao's cut-outs, billboards, balloons and festoons on all roads leading towards the venue and at all intersections.
Here are the highlights: 
07:51 pm: In Tamil Nadu, people rule their own state with their leaders. Similarly, we shall retain power and not surrender to Delhi leadership: Telangana CM KC Rao at TRS rally in Ranga Reddy district
07:46 pm: I promised that if I don't give drinking water to every household through Mission Bhagiratha before next elections, I won't contest elections. No other Chief Minister in the country would dare to say something like this: Telangana CM KC Rao at TRS rally in Ranga Reddy district
07:43 pm: Some media channels are saying KCR will dissolve the govt. All TRS members have given me an opportunity to take a decision on the future of Telangana. I will tell you when I take a decision: Telangana CM KC Rao at TRS rally in Ranga Reddy district
#Telangana CM Kalvakuntla Chandrashekar Rao arrives at Telangana Rashtra Samithi (TRS) rally venue in Ranga Reddy district. pic.twitter.com/CJ2MKbFt4K

— ANI (@ANI) September 2, 2018
Officials said 7,200 out of 10,600 buses of state-owned Telangana State Road Transport Corporation (TSRTC) have been deployed to ferry people for the meeting. This is in addition to hundreds of private vehicles. A thick security blanket has thrown around the 2,000 acre venue with the deployment of 20,000 police personnel. 
As huge traffic jams are likely, those going to the Rajiv Gandhi International Airport have been advised to take alternate routes.
In a decision criticised by the opposition parties, Hyderabad Metropolitan Development Authority (HMDA) has decided not to collect toll tax from the vehicles plying on Sunday. The opposition parties have accused TRS of misusing official machinery for the political meeting but Cabinet minister and Rao's son, KT Rama Rao has denied the allegations. He said all expenses of travel and food were being borne by the participants while the party was only taking care of logistics.
(With inputs from IANS)