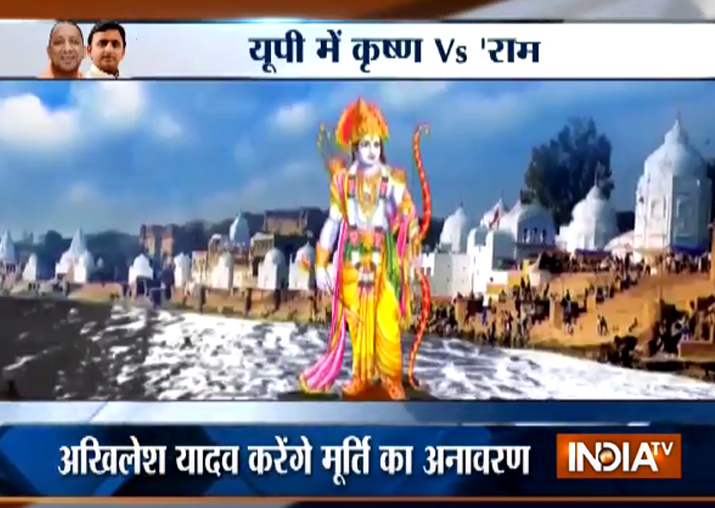 The Bharatiya Janata Party's (BJP) politics of development plus Hindutva seems to have derailed all political parties, forcing them to follow the footsteps of the saffron party in order to woo the majority community
After Congress vice-president Rahul Gandhi chose to play the 'soft-Hindutva' card in poll-bound Gujarat, the Samajwadi Party, which suffered humiliating defeat in the Uttar Pradesh Assembly polls, has now opted to follow the same path to garner pubic support in the state. 
In Saifai, which is the hometown of Samajwadi Party national president and former CM Akhilesh Yadav, the party is set to unveil a 50-feet tall, 60-tonne bronze statue of Lord Krishna. However, the statue which nears its completion has been covered by clothes.
Lord Krishna's statue has been installed at the Saifai Mela Ground and is being funded by the Saifai Mahotsav Committee. The statue captures an image from the Mahabharata, where he is seen holding a chariot wheel in his hands. The statue is said to be designed by experts using the latest 3D technology. 
If political pandits are to be believed, Akhilesh's decision to install a giant statue of Lord Krishna was chosen to send a message to the BJP before the 2019 general elections. 
At present, the SP has only 5 MPs in 545-member Lok Sabha and 54 MLAs in 404-member Vidhan Sabha.
Samajwadi Party leader Sunil Singh Sajan said that the project started six months ago and it has nothing to do with the politics. 
"The project was started much before the announcement of Lord Ram's statue in Ayodhya. It is a matter faith and this should not be seen as the SP doing any competition," he said.
The move comes in the backdrop of Yogi Adityanath government's proposed 100-metre tall statue of Lord Ram on the bank of Saryu River in Ayodhya.