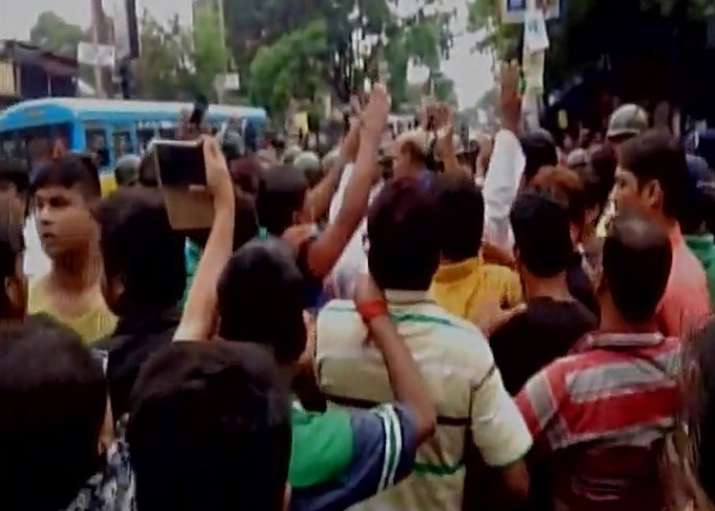 Fresh tension was reported in West Bengal's Basirhat area today forcing the police to lob tear gas shells and resort to baton charge even as the state government decided to ban some organisations for allegedly instigating people.  "Fresh tension brewed up at Basirhat town and station area after the communal clashes in Baduria in the district. Police had to lob teargas shells and resort to baton charge to disperse an unruly crowd," a senior police officer said. 
Police and BSF personnel immediately rushed to the area to bring the situation under control, he said. 
The state cabinet decided to ban the organisations after they were allegedly found instigating people in communal riots, a state minister said. 
North 24 Parganas district officials said life in Baduria and surrounding areas, where communal clashes broke out, returned to normal. 
Shops and markets reopened, bus services resumed and local residents started coming out of their homes. 
However, Internet services continued to be disrupted and paramilitary forces and police remained posted in the troubled areas. 
"Everything is back to normal. There are no reports of any problem from anywhere in Baduria. We are keeping a strict vigil so that nothing untoward happens. Till then police postings will continue here," the official said. 
TMC-BJP supporters clash after RSS activist injured in Basirhat violence dies
Meanwhile, supporters of West Bengal's ruling Trinamool Congress and BJP-RSS activists clashed outside a hospital in Kolkata on Thursday after a man allegedly injured in the Basirhat communal violence died in the hospital. The BJP and RSS leadership went to the state-run RG Kar Medical College and Hospital premises, claiming the deceased Kartik Ghosh - an active worker of their party - was killed in Tuesday's communal clash in Basirhat sub-division of North 24 Parganas district. 
The police said Ghosh hailed from Basirhat and died of multiple stab injuries. However, they did not confirm whether his death was linked to the communal violence. 
"He was associated with the Sangh and had been an active worker of BJP for a long time. He was stabbed several times with sharp weapons during the clash in Basirhat area. His family members brought him to R.G. Kar Hospital," the RSS' South Bengal General Secretary Jishnu Basu told IANS.
The ruckus started on Thursday morning when some BJP leaders including actor-turned-politician Locket Chatterjee were stopped by a mob from entering the hospital to meet the family of the deceased. Later in the day, a mob surrounded the cars of state BJP president Dilip Ghosh and party's national General Secretary Kailash Vijayvargiya and demanded they go back.
Claiming the agitators were Trinamool Congress-backed hooligans, Ghosh said they were being forcibly stopped from meeting the deceased's family members. The state BJP chief also complained that some of their activists were severely beaten up by TMC activists.
Baduria and its adjoining areas, including Keosha market, Banshtala, Ramchandrapur and Tentulia, witnessed a communal flare-up following a post by a youth on Facebook earlier this week. Though the youth was arrested, members of two communities clashed, set up road blockades, damaged shops and set fire to vehicles. 
Director General of Police Surajit Kar Purakayastha has requested people to refrain from spreading hatred and not to step into any kind of provocation. 
"Those spreading rumours and indulging in hate posts and false propaganda shall not be spared. Please respect the law of the land. 
Malicious efforts to create divides and attempts to take law in own hands will be sternly dealt with. Please don't heed rumours," the DGP said.
West Bengal says no to 400 more central troops for riot-hit areas 
The West Bengal government has said it does not need an additional 400 central troops for deployment in the riot-hit areas of North 24-Parganas district, according to a Union home ministry spokesperson. 
"We have sent eight companies of paramilitary forces (comprising 100 personnel each) to West Bengal for deployment in the communal violence-affected areas. However, the West Bengal government has conveyed that it does not require four of the eight companies," the spokesperson said here today. 
The state government has not cited any reason for its decision. 
The state's refusal came in the wake of an unprecedented public spat between Governor K N Tripathi and Chief Minister Mamata Banerjee, triggered by a telephonic conversation between the two on the communal violence. 
Happy with steps being taken to restore peace: Governor
West Bengal governor K N Tripathi today expressed satisfaction over the steps being taken to restore peace in the riot-hit areas of North 24 Parganas district. 
"I want peace and law and order to be restored. And I am happy that steps are being taken in that direction," he told reporters on the sidelines of a programme in Kolkata. 
Asked to comment on BJP national secretary Rahul Sinha who had termed him as "a soldier of Modi brigade", Tripathi said, "I am what I am, what others say I don't care." 
The communally charged clashes had triggered an unprecedented spat between Chief Minister Mamata Banerjee and Governor K N Tripathi, whom she accused of acting like "a BJP block president" and "threatening" her.