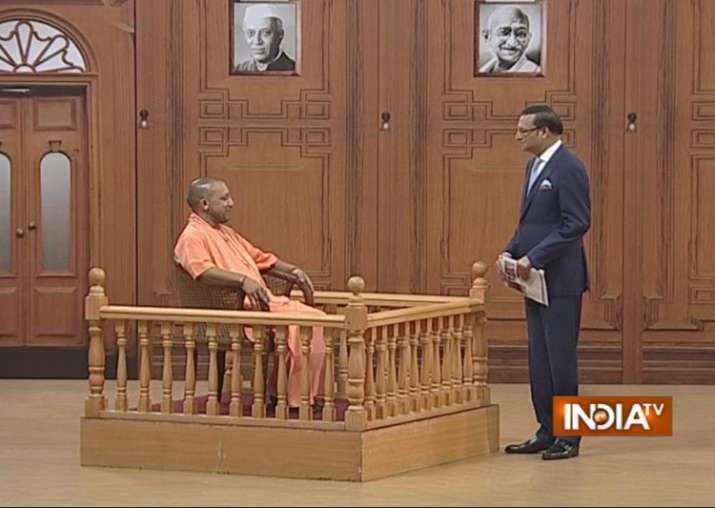 Uttar Pradesh chief minister Yogi Adityanath has issued a stern warning to criminals indulging in murders, rapes and robberies, and has said that his police would not hestitate to "knock them down" if they did not mend their ways. 
Replying to questions from Rajat Sharma in the show Aap Ki Adalat, to be telecast on India TV tonight, the chief minister bluntly said: "Agar apradh karenge, toh thok diye jayenge" (If they commit crimes, we will knock them down). 
When Rajat Sharma pointed out that despite his warning to criminals after taking over as CM, there have been 56 dacoities, 833 robberies, 715 murders and 771 rape cases in the last two months, Yogi Adityanath replied: "These statistics are lower than those in the previous government. Now police is registering all FIRs 100 per cent, and yet, we are taking this as a challenge." 
The chief minister sought to link the spurt in crimes to closure of illegal slaughter houses in the state. He said: "Those who were in the illegal slaughtering business, they are now unemployed. For employment, they will have to work as labourers, they have MNREGA. But if they resort to crimes, we will knock them down." 
Referring to the murders of two jewellers in Mathura, Adityanath claimed that the criminals were caught within five days, and one of them later committed suicide. "More criminals will now commit suicide. This is for sure. You will see." 
When Rajat Sharma pointed out that many Muslims in UP are now living in a state of fear, Yogi Adityanath replied: "In the last 70-72 days, not a single Muslim has become victim of any atrocity...You will be surprised to know, in my Janata Darshan programme, every day 25-50 Muslim women come with their parents, sons or sisters, and most of them have complained about their husbands who have given them 'talaaq' (divorce). This is an issue relating to half the population, and they need justice. I am happy that many Muslim organisations have supported our move against triple talaq. Several Shia clerics in Lucknow have spoken against consuming beef. Those who follow the law and Constitution have nothing to fear, but if any body thinks he is above the law, he should have reason to fear."
When it was pointed out by Rajat Sharma that closure of illegal abattoirs in UP has dealt a crippling bow to the economic backbone of Muslims in UP, the chief minister replied: "Our government did not issue any order. We are only enforcing the orders given by National Green Tribunal and Supreme Court in the past, but were not being enforced by previous state governments. In the past, senior officials including our Chief Secretary right down to the level of director, had to stand in courts for hours because of non-compliance, but now we have decided, we will enforce the court orders fully."
Asked whether he still stood by his inflammatory comments made against Muslim community in the past, the chief minister replied: "Those were conditional remarks. I am still saying this today - if anybody kills an innocent trader, or outrages the modesty of women, then the family of that criminal will have to decide whether he has the right to exist on this earth or not. We will not allow anarchy in the state any more. We have given enough warnings. Now we are preparing for action on a wider scale. Criminals and gangsters will either be inside jails, or will flee from the state. We will not allow any sort of jungle raj. So my present reply is closely related to my previous comments."
On the incident in Gorakhpur, in which airconditioners and sofas provided by the local administration at the house of martyred BSF head constable Prem Sagar were taken away after Yogi's visit, the chief minister said: "The administrators acted wrongly, and we have fixed responsibility. But let me tell you, we had announced that we will erect a memorial for the martyr, and name a local inter college after him, but the media ignored this and played up the airconditioner and sofa issue. I have already told the administration that no special arrangements need to be made for me if I visit any place. If any official violates this, I will personally take action. "
On distribution of soaps and shampoos  to Musahar Dalits before his visit to Kushinagar on May 27, the chief minister replied: " Shampoos and soaps are not perfumes. I have been working against encephalitis that is rampant in 38 districts of UP. Awareness about personal hygiene and prevention is the only way out. Distributing soaps to spread awareness about personal hygiene is not wrong, and if the administration distributed soaps to Dalits, there is nothing wrong in it. I would rather say, everybody should take bath daily, brush one's teeth and pare the nails, to avoid encephalitis."
The chief minister alleged that the previous Akhilesh Yadav government had distributed Rs 3500 crore as pension to Samajwadi Party workers. "This must stop, and if they start demanding more, we will institute an inquiry, and maybe during inquiry, we can start recovery from them too."
Yogi Adityanath also spoke about his vision of a Greater India comprising Afghanistan, Pakistan, Bangladesh and India. 
"Afghanistan and Pakistan were already part of Greater India in the past. Kaikeyi and Gandhari in Ramayana and Mahabharat hailed from those parts. Later situations changed, there were turmoils in history, and these territories were separated from India. It may be possible that history may take a turn again, and if both the Germanys can reunite, a day will come, there can be a Greater India. If people belonging to "that community" fail to stop the rampage of ISIS there, further action may take place, as I have already said ( in my old articles) ."
Yogi Adityanath in Aap Ki Adalat will be telecast tonight at 10 pm on India TV. repeat telecasts will take place on Sunday June 4 at 10 am and 10 pm.