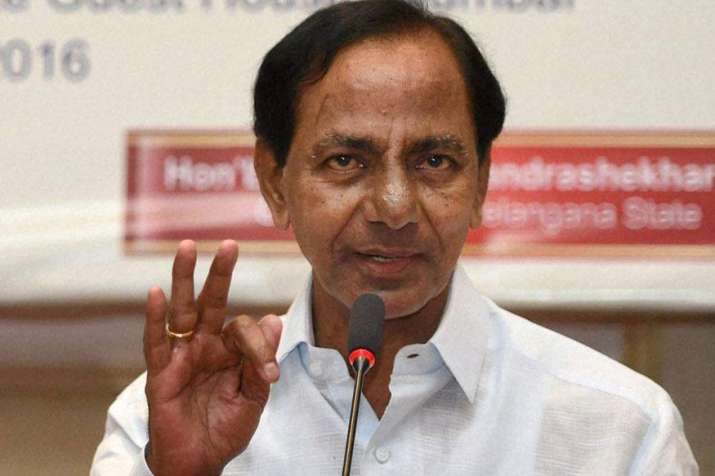 Telangana Chief Minister K. Chandrasekhar Rao will join all leaders and activists of the Telangana Rashtra Samithi (TRS) who will work as 'coolies' to collect funds to attend the party's plenary meeting scheduled for April 21 in Hyderabad.
Chandrasekhar Rao, the TRS president also referred to as KCR, has directed every member of the party, including ministers and legislators, to work as 'coolies' for two days between April 14 and 20.
Besides the party's plenary on April 21, a huge public meeting has been also planned in Warangal on April 27, on TRS foundation day.
KCR announced that the programme would be called "Gulaabi coolie dinaalu (Pink Coolie Days)" and he would also work for two days under the programme.
"We will call it as Gulabi Coolie Dinalu. The party workers can choose any work in their respective areas starting from agriculture works to other manual labour work. I too will do manual labour for two days at a place of my choice. Everyone should earn money by working to meet travel and food expenses," he said. 
"This has been the tradition of the TRS since its inception and will be continued whether we are in power or not," KCR said.
On Wednesday, Rao said the TRS membership touched 75 lakh so far against the existing 51.5 lakh in 2014 and likely to collect Rs 25 crore as membership fee, The News Minute reported. 
"Today, TRS is one of the few big parties in the country having a membership of over 75 lakh. We are getting requests to extend the membership drive," he said.
The TRS founder is often accused of spending public money on extravagant functions and religious offerings. 
In February, Rao had offered gold ornaments worth a staggering Rs 5 crore to Lord Venkateswara in Tirupati, inviting criticism from the opposition over "misuse" of public funds.
Last year in November, Congress had alleged that KCR "wasted over Rs 40 crore of public money" on his new official residential buildings complex at Begumpet in Hyderabad. 
In December 2015, opposition parties accused him of misusing government machinery and wasting public money on the five-day 'Ayutha Chandi Maha Yagam', performed bfor people's welfare at his farm house in Medak district.
Known to be a religious man, KCR often organises massive religious ceremonies.