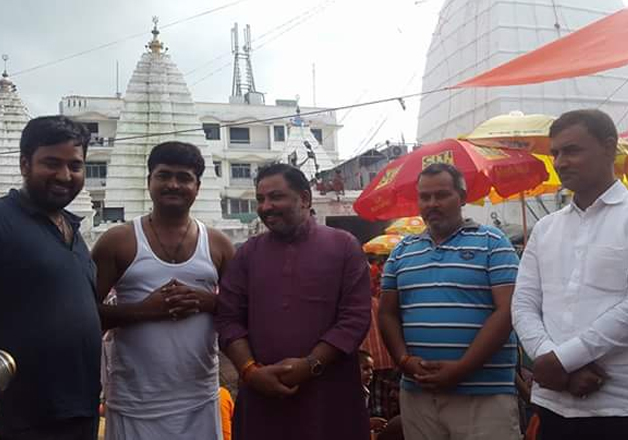 Suspended BJP leader Dayashankar Singh, who is on the run after being booked for derogatory remarks against BSP chief Mayawati, was seen in Jharkhand's Deoghar on Sunday.
In the pictures shared by news agency ANI, Singh can be spotted posing happily with four others with the temple in the backdrop.
BSP supremo Mayawati, who is in New Delhi, accused the BJP for shielding its sacked leader.
"Dayashankar Singh is in Jharkhand, which is ruled by BJP, clearly means he is being protected," she said and reiterated her demand that Singh should be arrested as soon as possible.
Dayashankar's wife hospitalised
In Lucknow, Singh's wife Swati Singh, who has taken up cudgels against BSP leaders for their derogatory comments against her daughter and family members, was today admitted to a city hospital after she complained of uneasiness.
"Swati was admitted to a private hospital here this morning with high fever, problem of chest congestion and diarrhoea. Her condition is improving," a family member said.
Following his derogatory comments against Mayawati, BJP suspended Dayashankar on July 20. An FIR was also registered against him under the SC/ST Act. Later, BSP held a huge protest and allegedly raised slogans against the expelled BJP leader's family.
An FIR was also filed against Mayawati along with BSP general secretary Naseemuddin Siddiqui and others on Friday on a complaint of Singh's mother Tetra Devi on July 22.
She had alleged that Mayawati used "abusive language" against the women members of the family and BSP leaders raised "derogatory" slogans during which Singh's 12-year-old daughter was also dragged into the row.
Police had yesterday secured non-bailable warrant against Dayashankar from the court of a special judge.
Meanwhile, Singh had on Tuesday moved the Allahabad High Court bench in Lucknow seeking a stay on his possible arrest and challenging the FIR lodged against him by BSP leaders.
A local court in Lucknow had yesterday issued a non-bailable warrant against Singh on the application of the district police over his derogatory remarks.
Singh, who was state BJP vice president, was expelled by the party last week for six years in the wake of the storm triggered by his remarks against Mayawati.