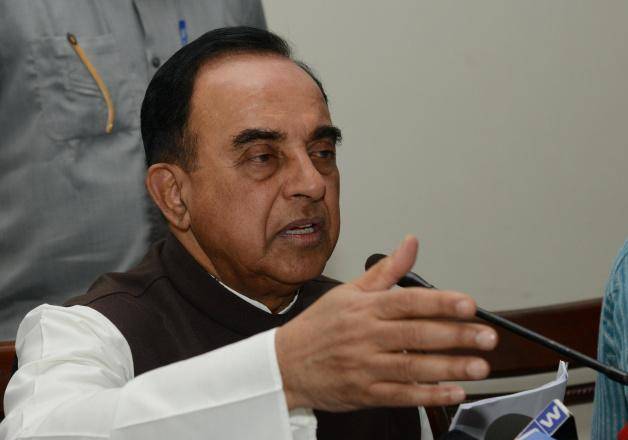 Firebrand BJP leader Subramanian Swamy today refused to comment on the developments in Tamil Nadu's ruling party AIADMK, saying the anointment of Sasikala Natarajan, a close aide of later CM Jayalalithaa, to the general secretary post is 'party's internal matter'.
"It is purely an internal matter of the party. There is also a chance of her becoming the chief minister," he told reporters here when asked about Sasikala's appointment to the top post in AIADMK.
On the criticism that Sasikala lacked the political ability for such a big post, Swamy shot back saying what capability did Sonia or Rahul Gandhi have when they took charge of the Congress.
Swamy, who spent a week at an ayurveda centre here, said the verdict in the disproportionate assets case against late chief minister J Jayalalithaa and Sasikala was expected to be delivered by the Supreme Court next month.
The case against Jayalalithaa and three others for allegedly amassing disproportionate wealth to the tune of Rs 66.65 crore during 1991-96 was filed on Swamy's complaint.
The BJP leader said with the changing political scenario in the state, the Tamil Nadu unit of the party required a new leadership as also new executive and general council members, adding that the party's January 6-7 national executive meet could take a decision in this regard.
Later, talking to reporters at the Chennai airport, Swamy said mediapersons did not ask questions when Sonia Gandhi took over as the Congress president.
On demonetisation, he said the intention behind it was good and welcomed initiatives such as the BHIM app which he said will be accepted by the people.
Swamy expressed confidence that the Supreme Court will give its nod to 'jallikattu' (a bull-taming sport) with some riders and the order would be delivered ahead of the coming Pongal festival.
He blamed some "foreign-funded NGOs" for creating an alleged prejudice against the traditional sport and added that he too had argued in the apex court for allowing 'jallikattu' by putting forth "strong grounds".
To supervise the safe conduct of the event, a committee may be asked to monitor the sport, he said.