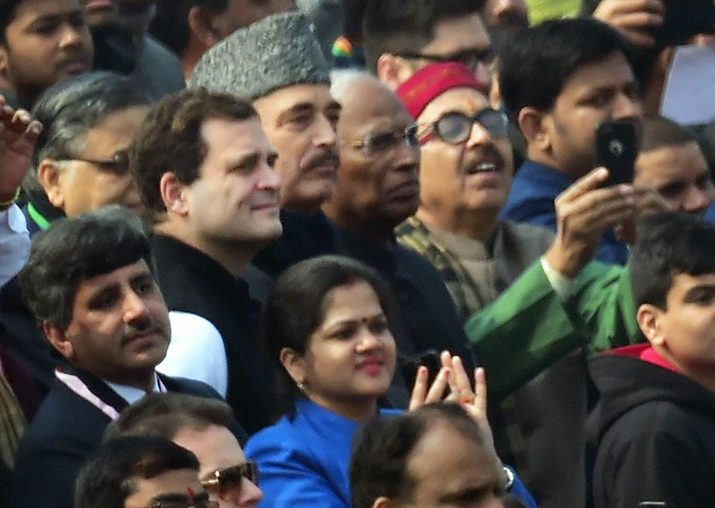 Amid raging controversy over Rahul Gandhi being allotted a sixth row seat at the Republic Day Parade, it has emerged that the Congress president's seat position was decided as per request made by the SPG team which provides him the security cover. 
Rahul Gandhi today attended the 69th Republic Day Parade and was seen sitting in the sixth row next to Leader of Opposition in Rajya Sabha Ghulam Nabi Azad. 
Sources told India TV that Rahul's seat was changed from fourth to sixth row as the SPG had demanded a corner seat for him so that he could easily move out in case of emergency. 
Since there were no corner seats available till fifth row, it was decided to allot a sixth row corner seat for the Congress president.
However, the Congress party said that the SPG had not made any request to push Rahul's seat back to sixth row. Top Congress sources even said that order to shift Rahul's seat from fourth to sixth row came directly from Prime Minister's Office (PMO).
Earlier in the day, Rahul's designated seat prompted an angry reaction from his party that accused the government of setting aside tradition and indulging in "cheap politics". 
Congress communications in-charge Randeep Surjewala said the Modi government's "cheap politics" was at display today when it broke tradition and denied Gandhi a front-row seat. 
Congress sources said the party presidents, including Sonia Gandhi who handed over the party reins to Rahul Gandhi in December last year, had always been seated in the front row at the Republic Day Parade. 
"The Modi government's cheap politics is for all to see. The Congress president was deliberately made to sit in the sixth row, after initially assigning him a fourth-row seat, at the Republic Day celebrations by the arrogant rulers, who set aside all past traditions. For us the celebration of the Constitution is foremost," Surjewala tweeted in Hindi. 
मोदी सरकार की ओछी राजनीति जग ज़ाहिर!

कांग्रेस अध्यक्ष श्री राहुल गांधी को गणतंत्र दिवस के राष्ट्रीय पर्व पर अंहकारी शासकों ने सारी परंपराओं को दरकिनार करके पहले चौथी पंक्ति और फिर छठी पंक्ति में जानबूझकर बिठाया।

हमारे लिये संविधान का उत्सव ही सर्व प्रथम है। pic.twitter.com/8bRi017G8J

— Randeep Singh Surjewala (@rssurjewala) January 26, 2018
He also tagged a picture of Gandhi seated along with Azad at the Republic Day function. 
Former prime ministers H D Deve Gowda and Manmohan Singh were seen seated in the front row in the picture, followed by Union ministers Smriti Irani and Thawarchand Gehlot.