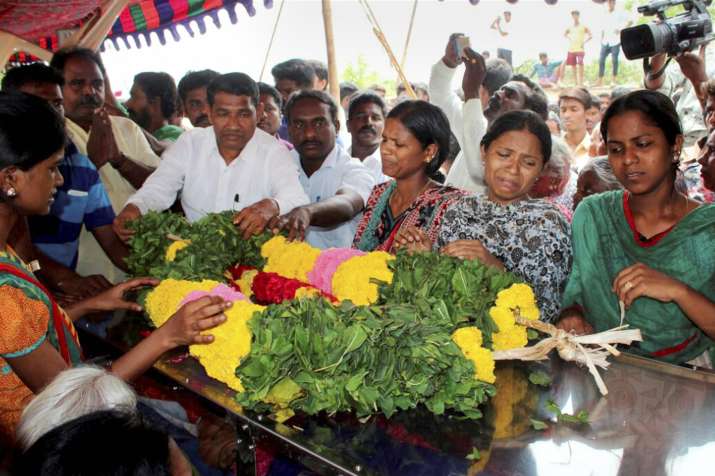 A man allegedly hurled a slipper and a stone at Union minister Pon Radhakrishnan, who had come to pay his last respects to Dalit JNU scholar Muthukrishnan, who had allegedly committed suicide at a friend's house in New Delhi on March 13. 
The incident took place when Muthukrishnan's body was brought to his home town in Salem from Chennai today and was kept at his house for people to pay homage. 
Radhakrishnan, Minister of State for Road Transport and Highways, was addressing the media when some students and activists started raising slogans against the BJP-led Central government.
In the melee, a man allegedly hurled a slipper and a stone at the Union minister, which, however, missed the target. 
Police have taken the person into custody. 
Radhakrishnan described the incident as "undesirable" and asked the Tamil Nadu BJP unit not to make a big issue of it. State BJP chief Tamilisai Soundararajan flayed the incident. 
Speaking on the alleged suicide, he told reporters that a five-member team has already submitted the post-mortem report of Muthukrishnan, based on which a judicial probe will be initiated. 
In response to a question on Muthukrishnan's alleged suicide, he said, "I will not accept (accusations) that this (death) has happened because of the BJP coming to power." 
These incidents "have been happening at many places for the last 60 years", he claimed. 
The minister said that in Muthukrishnan's death, he felt like having lost "my own younger brother". 
In a series of tweets, Radhakrishnan said his party will continue to voice support for the welfare of Tamil Nadu and the students of the state. 
Earlier, Radhakrishnan placed a wreath on the body of Muthukrishnan, while Salem Collector Sampath paid floral tributes and handed over a cheque of Rs 3 lakh announced by the state government to Jeevanandam, father of Muthukrishnan. 
The body was brought this morning from Chennai and kept at Muthukrishnan's home here. 
The M.Phil student, who was staying at the Jawaharlal Nehru University's Jhelum hostel in New Delhi, was found hanging from the ceiling fan at a friend's residence in south Delhi's Munirka area on March 13. 
Muthukrishnan, said to be at the forefront of a students' movement following research scholar Rohith Vemula's death, had severely criticised the varsity's admission policy in a Facebook post days before taking the extreme step. 
In his post, which has gone viral, the 28-year-old student had also slammed the recent prohibitory order by JNU authorities banning protests at the administration block. 
Muthukrishnan had completed his MPhil from the University of Hyderabad (UoH) in 2015 before joining JNU for his PhD.