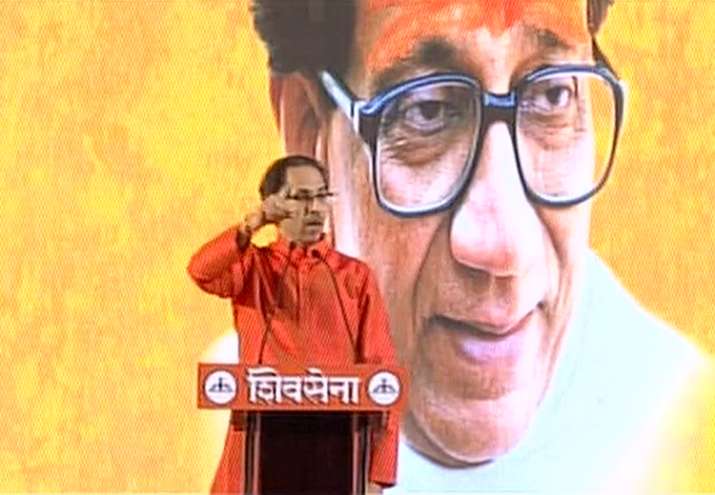 Ending the 25-year old alliance with the Bharatiya Janata Party (BJP), Shiv Sena President Uddhav Thackeray on Thursday said his party will contest  alone in the upcoming civic polls in Mumbai and elsewhere in Maharashtra.
Addressing a rally in Mumbai today, Thackeray said his party will contest the upcoming elections to municipal corporations and zilla parishads, including the prestigious Brihanmumbai Municipal Corporation (BMC), on its own. 
"We shall not go around with a begging bowl. We have wasted 25 years in this alliance. But no more. Shiv Sena will contest all the civic body elections independently and will not have an alliance with them (BJP) henceforth," thundered Thackeray at a party workers' rally in suburban Goregaon this evening.
"I am ready to go solo, the Shiv Sainiks are ready to go solo. I want strong foot-soldiers with me who have the courage to launch a frontal attack and not back-stab. Once I have taken my decision, I do not want anybody to question it," he said.
Maharashtra Chief Minister Devendra Fadnavis, in apparent reference to Thackeray's declaration, announced that the BJP "will take along those who come."
Power ain't our ultimate goal but a medium of development. We'll take along those who come with us and leave aside who don't. Transformation is inevitable," Fadnavis in a tweet. 
The talks between the ruling alliance partners BJP and Shiv Sena for the tie-up for all-important Municipal Corporation of Greater Mumbai had reached a dead-end in the last few days. 
The much-anticipated move came after a stinging speech in which he criticized the BJP with which the party is in alliance in Maharashtra and centre, and directly targeting Prime Minister Narendra Modi.
The move was greeted with cheers and a thunderous applause with the workers chanting to Thackeray's call for fighting the ensuing elections separately.
Since past few days, talks between the two parties have been faltering with BJP making it clear that it was "prepared to fight alone" if the alliance with Shiv Sena fails to materialise.
Elections to MCGM and other municipal corporations in the state including Nashik, Pune, Kolhapur and Nagpur are to be held on February 21.
Thackeray also took a swipe at the BJP without naming it for inducting "goons" into the party. 
"I said to someone, let us also induct some goons. But then, I was told none was left. My Shiv Sainiks are ready to respond to all your allegations, but make sure you do not involve the police," he said. 
In a direct attack on the BJP-led central government, the Sena chief alleged that there was an "atmosphere of fear" in the country today as anyone who spoke against the ruling party was being branded as an anti-national. 
"Those who would have been in the dust bin had the Sena supremo (the late Bal Thackeray) not stood behind them in the past, have forgotten everything now," he said. 
"What kind of negotiations was the BJP doing (for seat-sharing for the MCGM poll)? The first meeting ended without any conclusion and in the second one, they ask for 114 seats (out of 227)? Is it not an insult to us? When we are asking for our share, we are doing so on the strength of the work done by us. 
"We do not say a word when you have the posts of prime minister, chief minister with you, nor do we demand better portfolios. But, if you try and come to my own house and dislodge me, I will not tolerate it," Thackeray said. 
The Sena chief also slammed the BJP-led state government's recent order banning the celebration of religious festivals, pujas and pictures of deities in government offices, alleging that Sena ministers were not taken into confidence before issuing the circular. 
"Where was your transparency before you took this decision? Why were Sena ministers not taken into confidence? Had they been, they would have strongly protested it," Thackeray said. 
Wondering why pictures of deities could not be hung in offices, Thackeray said he accepted secularism, but it should be applied without discrimination. "If you have the courage, implement the Uniform Civil Code," he said. 
Elections to 10 municipal corporations in the state, including Mumbai, Pune, Nashik and Nagpur, would be held on February 21. Elections to 25 zilla parishads will be held in two phases, on February 16 and 21.