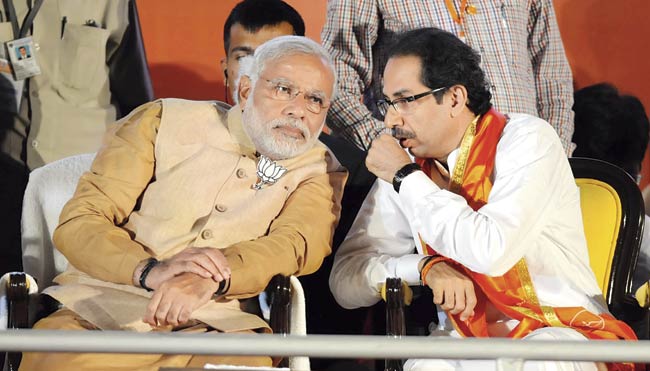 Shiv Sena on Wednesday took a jibe at Prime Minister Narendra Modi over his reference to Balochistan in Independence Day speech and asked if he will send the Army to save the Baloch leaders who have been charged with sedition for backing his remarks.
Five cases, including that of sedition, have been registered against separatist Baloch leaders Brahamdagh Bugti, Harbiyar Marri and Banuk Karima Baloch for supporting Indian Modi's supportive words on their struggle in Balochistan.
"Baloch leaders have paid a heavy price for supporting PM Modi. Serious offences like waging war against Pakistan have been registered against them. This is a part of Pakistan's tyrannical attitude," an editorial in Sena mouthpiece 'Saamana' said.
"What will our PM do in their support now? Will he send the Army to save Baloch leaders from Pakistan or will he once again give a speech denouncing Pakistan's action against them? These leaders are facing trouble only because they supported PM Modi's speech," it said.
On August 15, from the historic Red Fort, Modi had said that the people of Balochistan, Gilgit-Baltistan and 'Azad Jammu and Kashmir' had "thanked him a lot in the past few days" highlighting the atrocities the Pakistani State inflicted on the residents of troubled regions. 
Pakistan later said Modi crossed the "red line" by talking about Balochistan and asserted it will "forcefully" raise the Kashmir issue during the next month's UN General Assembly session.
Modi's statement sparked protests across Balochistan, with large numbers of tribesmen taking to the streets in protest in Dera Bugti, Khuzdar, Quetta, Chaman and other parts of the province.
Balochistan Chief Minister Sanaullah Zehri, in a speech last week, slammed Modi's statements, alleging that the Indian government "fully supports the ongoing insurgency in Balochistan".
Zehri's speech came days after a video showing exiled Baloch leader Brahamdagh Bugti appreciating "support" given to the Baloch people by Modi began circulating on social media.
(With PTI inputs)