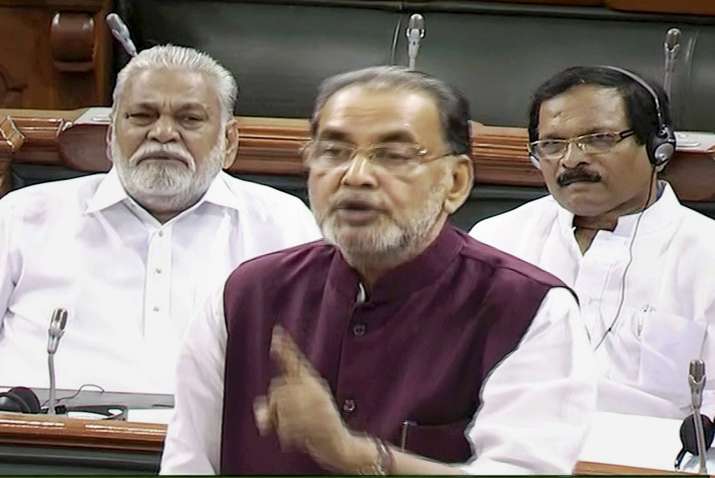 The government tonight said it is sensitive towards the problem of suicides among the farmers as the Opposition slammed it over the issue in the Lok Sabha. Agriculture Minister Radha Mohan Singh insisted that the number of suicides by the farmers have come down in the last two comparative years of 2015 and 2016. Citing figures of the National Crimes Record Bureau (NCRB), he said in 2015, the number of suicide cases was 12,602 which declined to 11,458 in the successive year.
"Farmers suicide is a cause of concern... Suicides should not take place, whether it is one or one lakh. We are very sensitive to this issue. There are various reasons for the suicides and the only solution is to increase farmers income," he said while replying to a debate on the agrarian situation in the country.
In an apparent attack on the previous government, Singh said that farmers' plight would not have worsened had the earlier dispensations taken the right steps.
He said the government has taken various measures to double their income by 2022 and Prime Minister Narendra Modi was himself monitoring this endeavour.
"We have made a roadmap for 2017 to 2019 and we are taking various steps in that direction," Singh said.
"If we fail to achieve the goal, the Opposition has every right to scrutinse us," he added.
While he was replying to over five-hour debate, Congress leader Jyotiraditya Scindia wanted the minister to specify whether the government would grant loan waiver to the farmers.
There was response from the minister to this, following which the Congress members staged a walkout.
As Congress memembers were walking out, Parliamentary Affairs Minister Ananth Kumar attacked the main Opposition party, saying it was not serious about the problems of the farmers as very few of its members were present to listen to the reply on such an important matter.
"We thought they will participate till the end on this serious issue but they have very little concern for the farmers. Also, there are only two or three of them in the House even though we held the debate after they asked for it," he said.
Earlier, the Opposition accused the government of not being sensitive towards farmers' issues as it demanded loan waiver, better minimum support price and criminal cases against those responsible for death of farmers during agitation in Madhya Pradesh recently.
Oppn accuses govt of not being sensitive to farmers' issue
The Opposition today accused the government of not being sensitive towards farmers' issues as it demanded loan waiver, better minimum support price and criminal cases against those responsible for death of farmers during agitation in Madhya Pradesh recently.
Initiating a discussion in the Lok Sabha on the 'agrarian situation in the country', Congress leader Jyotiraditya Scindia said the condition of farmers has deteriorated and the number of suicides have increased under the present government.
"This government is not sensitive towards the issues of farmers. Prime Minister Narendra Modi immediately tweets at global disasters but he has not tweeted anything on the killings of farmers in Mandsaur," he said.
He said even the Agriculture Minister has not visited Mandsaur "as he was busy doing yoga with Ramdev baba".
He said farmers are facing problems and are in a state of despondency, not only in Madhya Pradesh but in other states too, including Uttar Pradesh and Maharashtra.
"This despondency is there in every nook and corner of the country," he said.
He said the government is talking about smart cities and building high rise buildings but those will not stand with weak foundation.
Scindia said that in its election manifesto, the BJP had promised to double farmers' income and implementation of Swaminathan recommendations, but they are not doing anything.
"Today's reality is that farmers' are suffocating. Two hands are required to suffocate a person and here one hand is increasing input cost like power and fertiliser and other one is no increase in minimum support price (MSP)," he said.
In the last three years, he said, agriculture sector has recorded a growth of only 1.7 per cent while during the last three years of the UPA regime, the growth rate was 3.6 per cent.
Intervening, Agriculture Minister Radha Mohan Singh said Scindia) was "misleading the House".
He said in 2016-17, the sector grew by 4.9 per cent.
The government has promised to reduce the input cost of farmers, Singh said.
Scindia said after implementation of Goods and Services Tax (GST), prices of fertiliser, tractor and equipment have increased.
Diesel prices during the UPA regime was low even when the global crude oil prices were USD 125 per barrel, he said adding during this government oil prices have down to USD 55 per barrel but diesel prices in the domestic market is high.
In countries like Pakistan and Sri Lanka, diesel prices are lower than that of India, he added.
"In whose pockets, these high taxes are going? This is 'suit boot ki sarkar'," the Congress leader said.
Today farmers are forced to throw their tomatoes, onion and potatoes on roads, he said, adding soon milk would also be spread on roads.
He also said that prices of several agri produce like grapes, groundnut and cotton have declined significantly.
"Only 60 per cent farmers gets MSP and 40 per cent are forced to sell their produce at below MSP. Middlemen are enjoying," Scindia said.
He said the Prime Minister promised that after demonetisation, people would not stand in queues, but in vegetable mandis, one can see long queues of farmers.
He also alleged that government is not settling payments of farmers under the Fasal Bima Yojna.
During UPA's regime, Rs 72,000 crore worth of farm loan was waived and now also states like Karnataka and Punjab have waived loans of 22 crore and 10 crore farmers respectively, he said.
"Today, this government is saying that we will not waive farm loans," he said and asked, "if farmers are not demanding loan waiver, then why they are committing suicide?" 
He placed five demands with the government which include farm loan waiver, minimum support price as per the recommendations of Swaminathan committee and criminal cases against those responsible for killing of farmers in Mandsaur.
He also asked the government to resolve issues related to Fasal Bima Yojna and irregularities in mandis.
"The Prime Minister says that everything is fine in the country but people here are lynched in the name of cow vigilantism," Scindia said.
This government came to power with the support of farmers's votes but now they are suppressing them, he said.
Referring the recent agitation in Mandsaur district of Madhya Pradesh in which six people were killed, he said, "when the farmers approach the government with their problems, they are sprayed with bullets".
Farmers were killed and they were also put behind bars and during such times, no minister visited the state, he said.
Blaming Madhya Pradesh Chief Minister Shivraj Singh Chouhan for the plight of farmers in the state, Scindia criticised him, saying during the recent agitation, he sat on fast instead of addressing the grievances of the protesters.
He said farmers were called to Bhopal, all the way from Mandsaur, and it was conveyed to them that they would get compensation only when the Chief Minister ends his fast.
Intervening, Parliamentary Affairs Minister Ananth Kumar said whatever the Congress leader is alleging, he should authenticate all that before the House. Otherwise, those remarks should be expunged, he urged the Chair.
Scindia, while attacking the ruling side, claimed that one of members had once described Nathuram Godse as a "patriot". A minister had said that removal of Mahatma Gandhi's picture from the KVIC calender and printing Prime Minister Narendra Modi's picture has helped in pushing sales, he added.
Vijendra Singh (BJP) demanded for a special session of Parliament to discuss all the issues related with farmers.
Intervening, Speaker Sumitra Mahajan said, "one day, I would orgainse such session...we are politicians. We know about the issues of farmers".
Singh also suggested ways to help farmers get better prices of perishable items.
He said such produce can be supplied to defence and para military forces.
Talking about the MS Swaminathan report, he said "Swaminathan is not a Bramha (God). As a farmer, I too have not agreed to all his recommendations. Farm loan waiver is not a permanent solution. We need to find ways so that farmers can not become indebtor".
Kalyan Banerjee (TMC) said that farmer killing and suicides have become a national issue today.
"Of all suicides in India, 11.2 per cent are farmers suicide," Banerjee said.
As per the data of the national crime bureau, in the last three years, farmer suicide has increased in states like Maharashtra, Telengana, Andhra Pradesh and Madhya Pradesh.
He said bankruptcy and indebtedness are the most largest reasons for farmers suicides.
"Farmers rights has to be considered in a respected manner. It is a serious and emotional issue," he added.
Bhartruhari Mahtab (BJD) asked the agriculture minister to look at three main issues - Fasal Bima Yojna, MSP mechanism and loans given by financial and non-financial institutions.
"There is an unrest through out the country...promises made for farmers should be fulfilled," he said, adding farmers are feeling cheated and betrayed after demonetisation.