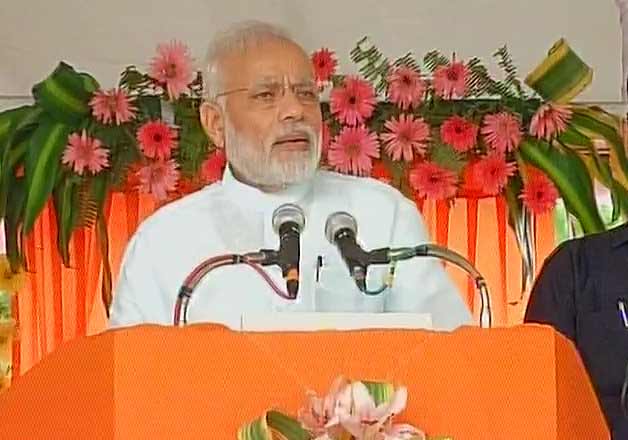 New Delhi: Prime Minister Narendra Modi today said that second green revolution will happen in eastern part of India while stressing that the chariot of development needs to run on two wheels of both eastern and western India.
PM was addressing a rally after he laid the foundation stone for the revival of a sick fertiliser plant, a move which will create up to 4,000 jobs and ensure adequate supply of nutrients to farmers in Uttar Pradesh.
The Prime Minister said the second green revolution will take place in eastern India, including here in eastern Uttar Pradesh."
The PM said that it is the power of the people who voted back BJP to power that has resulted in the revival of the fertiliser plat."
"It would be wrong to say that work of a factory which was closed for 26 years has been started because of me. Its due to people," the  PM said.
"Credit goes solely to you as you are the ones who brought us to power & strengthened our hands,"he added.
Underlining the need of job creation in the state, the PM said," why should fertiliser plants be shut & youth not have jobs. And to add to that fertiliser be imported from abroad. This isn't acceptable."
PM also said that his government is the first to reduce prices of fertilizer, no government before ever thought of this.
He said urea black marketing has been stopped since his government came to power.
Mr. Modi also said it was sad to note that earlier urea was imported from abroad which was not acceptable to him.
We decided to give farmers as much urea as they want, but will try to work on shut down factories also", PM said. "If we have to develop India, the chariot of development needs to run on two wheels- Eastern and Western India", he said.
The grand event as attended by BJP MP Yogi Adityananth, UP BJP chief Keshav Prasad Maurya, senior party ministers Piyush Goyal, Ananth Kumar, JP Nadda and Apna Dal leader Anupriya Patel.