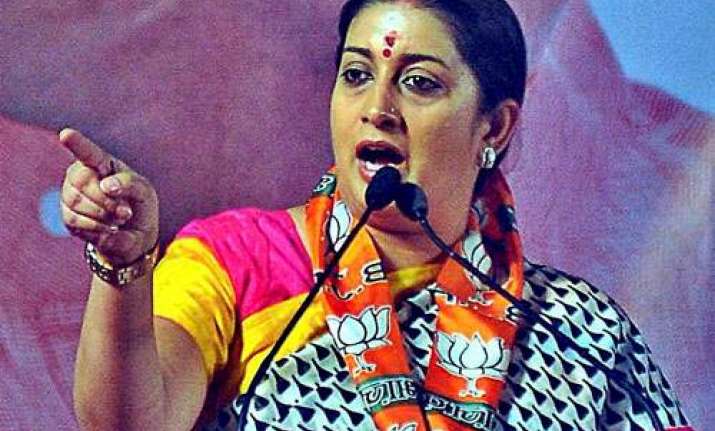 Launching a scathing attack on Samajwadi Party, Union minister Smriti Irani today termed it a 'protector of rapits'.
Referring to the FIR filed against the tainted Samajwadi Party minister Gayatri Prajapati in connection with cases of alleged gangrape, Smriti Irani said that it was a disgrace for UM CM Akhilesh to have a person like Gayatri Prajapati in his cabinet.
"It is a disgrace that Chief Minister Akhilesh Yadav had in his cabinet a person like Gayatri Prajapati who has been accused of rape. That the court had to intervene and order that an FIR be lodged against the minister proves that SP is a protector of rapists. No wonder under its rule, women of UP have never felt safe", Irani said while addressing a series of election meetings in Allahabad.
Smriti Irani also targeted the Congress for entering into an "opportunistic alliance" with the Samajwadi Party.
"That the Congress has been discredited across the country is evident from its drubbing in the Lok Sabha polls followed by its losing state after state in assembly polls," she said.
"Congress, SP and BSP therefore stand no chance of coming back to power in UP, whether they fight separately or in coalition", she added.
She further said that the people are looking at the BJP with hope amid "this gloomy situation".
"The party, once it comes to power in UP, will root out corruption, take lawbreakers to task and help the state realise its full potential. The people will definitely vote for us and teach a lesson to the opportunistic alliance of SP and Congress," she said.