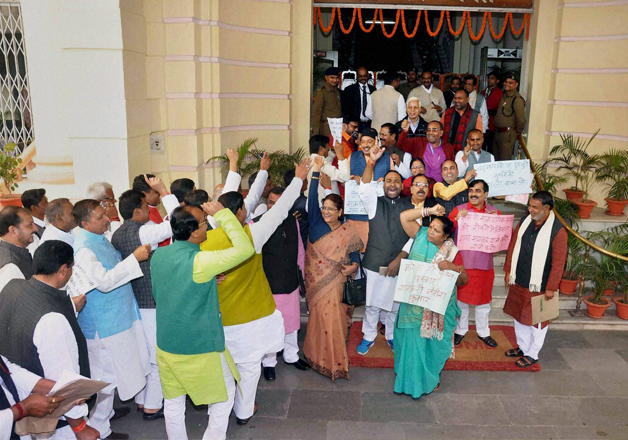 The opposition BJP and ruling partners of the ruling 'Mahagathbandhan' government today created a huge ruckus in the Bihar Assembly over several issues including deteriorated law and order situation and demonetisation.
Both the Houses couldn't transact any business as MLAs of both sides stormed into the well in support of their demands.
While the opposition BJP stormed to the well in support of its adjournment notice, the Congress, RJD, JD(U) MLAs raised the issue of purchase of land by the BJP for opening their offices using demonetized Rs 500 and Rs 1,000 notes.
In the state Legislative Assembly too, ruling MLAs came into the well and started raising slogans against Prime Minister Narendra Modi. BJP members too rushed to the well and raised slogans in favour of the Prime Minister and demonetisation. 
Unruly scenes were witnessed with members pushing and shoving each other. In the midst of intense protest, Congress MLA Ramdeo Rai and some from BJP and RJD members were also were seen standing on reporters' table and sloganeering.
Even before Speaker Vijay Kumar Chaudhary came in the House, MLAs of ruling as well as opposition had gathered around reporters' table and raised slogans against each other.
The scene was no better after the House reassembled at 12 noon and the Speaker was forced to adjourned it again till 2 PM.
Chaos prevailed even after 2PM as BJP MLAs sat on dharna outside the chamber of the Speaker and raised slaogans 'Modi, Modi'. The 'Mahagathbandhan' MLAs, especially the Congress, too raised slogans in favour Congress vice-president Rahul Gandhi.
Both the sides even demanded apology from each other saying their MLAs were hurt during the protest. 
MLAs of both the sides separately met the Speaker and lodged their protest.
BJP's Gayatri Devi and RJD's Prema Choudhary claimed they suffered injuries during the protest by opposing parties' members.
Gayatri Devi also accused a RJD MLA of misbehaving with her in the well of the House. 
Senior JD(U) leader and deputy leader of the House Shyam Rajak told reporters outside the Assembly that they were protesting purchase of land by BJP for opening their offices in districts allegedly out of black money.
He demanded CBI probe into the land purchase by BJP in Bihar.
Lalu Prasad's RJD members demanded the PM to fulfill his "poll promise of providing Rs 15 lakh each in the bank accounts of people by bringing black money from outside." 
Congress members vented their anger against BJP members for their alleged uncharitable remarks against Sonia Gandhi and Rahul Gandhi yesterday in Legislative Council.
Chief Minister Nitish Kumar was not present in either of the house. He had gone to his native place Kalyan Bigha to pay respect to his departed father on his death anniversary.
Meanwhile, senior BJP leader Sushil Kumar Modi said that Chief Minister Nitish Kumar should reconsider on continuing alliance with the RJD and Congress.
"He should rethink about his old ties. It will be a 'political death' for him (Nitish), if continues with the RJD and Congress," he said.
When RJD leader former CM Rabri Devi was asked about Modi's remark, she replied, "If he is so much concerned, he should get his sister married to Nitish."