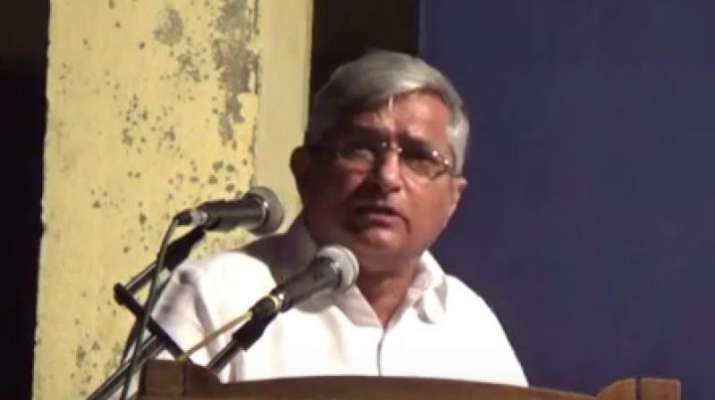 The Rashtriya Swayamsevak Sangh (RSS) on Wednesday sacked its Goa chief, Subhash Welingkar, for making adverse comments against the state's ruling BJP.
"Subhash Welingkar has been removed from his post with immediate effect for faulting a political outfit and working against Goa government," RSS publicity head Manmohan Vaidya said
The RSS is the ideological mentor of the BJP.
Mr Welingkar had said on Monday that the BJP may not win the next state election since it had "betrayed" the electorate's trust by going back on its promises.
On August 20, Velinkar led a local outfit which showed black flags to BJP president Amit Shah demanding withdrawal of government grants to English medium schools.
The incident took place when Shah was on his way to address a meeting of BJP workers near here. Bharatiya Bhasha Suraksha Manch (BBSM), an outfit led by Velingkar, has been demanding withdrawal of government grants to English medium schools. The organisation, which wants regional languages to be medium of instruction (MoI) in Goa's primary schools, has launched statewide protests. BBSM is at loggerheads with Goa's BJP-led government which has formed a committee to look into the MoI issue.
When Shah's convoy reached the Goa University Road on way to Dr Shyama Prasad Mukherjee Stadium where he was to address booth level workers' meeting, activists of BBSM waived black flags at the BJP chief amid presence of police personnel. Earlier in the day, Velingkar told PTI the protests had been planned not to condemn Shah but to urge him to intervene in the MoI issue.
"We want Shah to correct the blunder committed by former Chief Minister Manohar Parrikar (during whose tenure the MoI issue started)," he said. Parrikar and Goa Chief Minister Laxmikant Parsekar, who also passed by the road to attend the function, too, were shown black flags. Shah was in Goa to launch BJP's election campaign for the Assembly poll due in the first half of 2017.