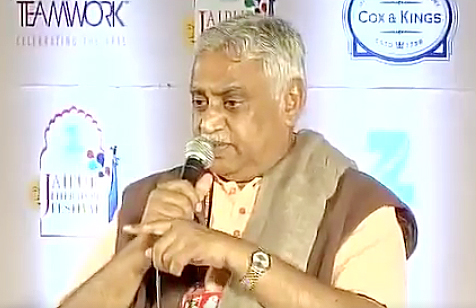 Pitching for equality, Rashtriya Svayamsevak Sangh (RSS) ideologue Manmohan Vaidya today called for a reservation-free India.
Present at the Jaipur Lit Fest, Vaidya, who is also the Pramukh Pracharak of the right-wing organisation, said that reservation refrains from providing equal opportunities to all and labelled it as the cause of increase in separatism in India.
"The caste-based reservation in jobs and educational institutions must end soon. Everyone deserves equal opportunities," said Manmohan Vaidya.
"There should be enough opportunities for jobs and education instead of this system. It only promotes separatism," said Vadiya quoting late Dr Bhimrao Ambedkar.
The statement by Vaidya comes just before start of Assembly elections in five states and could come as a warning bell for the Bharatiya Janata Party.
Last year, RSS chief Mohan Bhagwat made a similar remark ahead of the Bihar Assembly polls and it was attributed to be one of the top reasons for BJP's crushing defeat in the elections in the state.
Assembly elections will be held in seven states in the coming months. The Election Commission of India has announced dates for Assembly polls in Uttar Pradesh, Punjab, Uttarakhand, Goa and Manipur.
Soon after the remarks were made, Rashtriya Janata Dal (RJD) chief Lalu Prasad Yadav took to Twitter to react. He wrote:
मोदी जी आपके RSS प्रवक्ता आरक्षण पर फिर अंट-शंट बके है। बिहार में रगड़-रगड़ के धोया,शायद कुछ धुलाई बाकी रह गई थी जो अब यूपी जमकर करेगा।

— Lalu Prasad Yadav (@laluprasadrjd) January 20, 2017