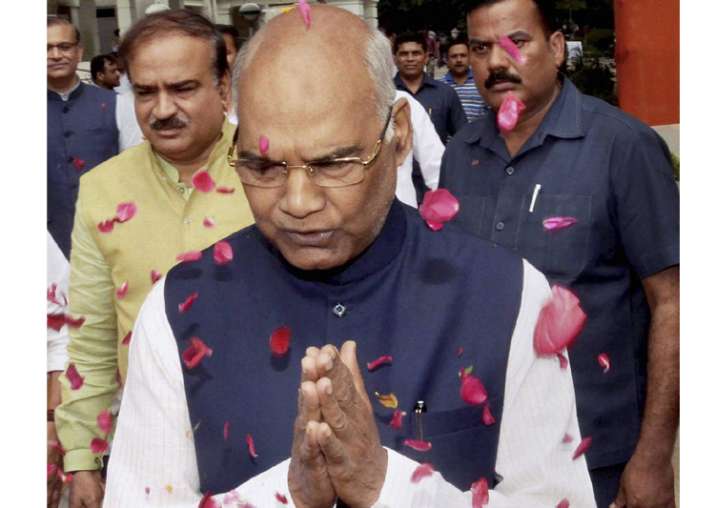 Union minister Nitin Gadkari today said NDA's presidential candidate Ram Nath Kovind will get more than 70 per cent vote share in the July 17 election. Gadkari was talking to reporters while accompanying Kovind who met NDA MPs and MLAs in Goa at a resort in Vasco, 35 km from here.
The interaction was also attended by legislators of the Goa Forward Party, the Maharashtrawadi Gomantak Party and three Independent MLAs who are supporting the Manohar Parrikar-led government in the state.
NCP legislator Churchill Alemao was also present at the meeting but said he is yet to promise his support to Kovind. "I came here because I was invited. I had come here to listen to him. Whether to vote for him will be decided by my party," Alemao told reporters.
Gadkari said during the interaction, the NDA's presidential pick told the MLAs that he would uphold the principles laid down in the Indian Constitution. "I am sure he will win with more than 70 per cent votes," he said.
Chief Minister Manohar Parrikar said this was for the first time that a presidential candidate has come to Goa to canvass support for his presidential bid. "This signifies that Goa holds an important position as far as the NDA is concerned," he said.
Parrikar said he would request the 38 legislators in the state to vote for Kovind as the post of the president is always above any party.
Gadkari said this was the last day of Kovind's nation-wide tour to drum up support in the presidential election, during which he visited 26 states. "Today he toured Maharashtra and Goa, and will now head towards Gujarat," Gadkari said.
Kovind is slated to hold a meeting with BJP MPs from Gujarat, state legislators and the party's core committee members in Gandhinagar today. "He met MLAs from Maharashtra and Goa who are part of the NDA. Everyone has assured support to Kovind in the presidential election," Gadkari said.