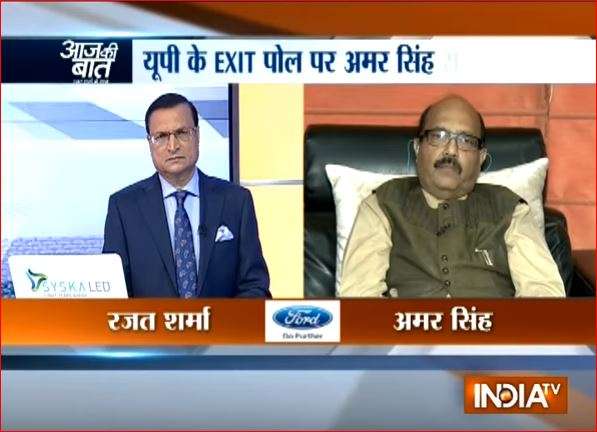 Expelled Samajwadi Party leader Amar Singh has said that party general secretary Ram Gopal Yadav will be responsible if the Akhilesh Yadav-led government is ousted from the state.
Speaking to India TV, Amar Singh said that the statement of Sadhna Gupta, the wife of SP founder Mulayam Singh Yadav, at the fag end of the election campaign made it clear that Ram Gopal Yadav was the main villain behind  the intra-party feud in the Samajwadi Party involving  family members of Mulayam.
Amar Singh pointed out that the treatment meted out to Mulayam Singh Yadav by his son and UP Chief Minister Akhilesh Yadav did not go down well with the core support-base of Samajwadi Party i.e. the Muslim-Yadav combination.
Amar Singh predicted that the BJP under the leadership of Prime Minister Narendra Modi will form the next government in the state with a clear majority.
"This time, it will be impossible for anyone to stand in front of the Modi storm. The reason is that PM Modi speaks out from his heart and successfully connects with his audience," Amar Singh said.
He added that it was a mistake on part of the Samajwadi Party to concede more than 100 seats to Congress party which lacked party structure in most of the constituencies it has put up candidates from.
He also blasted senior SP leader and UP minister Azam Khan for saying that Uttar Pradesh, and not Akhilesh Yadav, will be responsible if SP is ousted from power in UP.