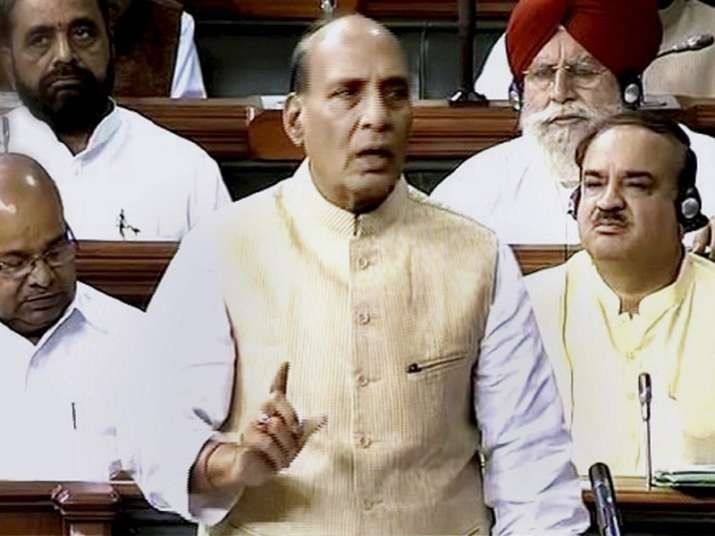 The case of a Muslim man being lynched to death in Alwar today stalled proceedings in both Houses of the Parliament.
As a united opposition slammed the government for doing 'nothing' against the attackers, Home Minister Rajnath Singh assured the Lok Sabha that the Centre will ensure that justice prevails in the alleged case.
"The state government has taken cognisance of the matter. FIR has been registered and some arrests have been made in the case. Centre would try that justice would prevail," Singh said.
The HM's response came after Congress leader Mallikarjun Kharge raised the issue during Zero Hour, demanding action against the culprits.
Earlier, raising the matter, Kharge said, "It is not good to take law into (one's own) hands. It's a serious matter. This is the fifth incident in a row. Earlier such cases were reported in Uttar Pradesh and Haryana also."
He also sought compensation for the victim and action against the culprits.
Victim Pehlu Khan (55) was brutally beaten up by cow vigilantes in Rajasthan's Alwar district on Saturday while transporting cows. Khan succumbed to his injuries on Monday night in a hospital where he was being treated.
Earlier in the day, Congress vice-president Rahul Gandhi attacked Prime Minister Narendra Modi and the RSS, saying 'there is no place in the country for those disagreeing with them' and that 'tragedies of huge proportion occur when government abdicates responsibility'. 
"This is a new vision for India that Narendra Modiji is propagating. It is a vision where only one idea will prevail and any other idea, anybody who does not listen to or agree with Narendra Modi or RSS has no place in India. That's the vision," Rahul told reporters outside the Parliament.