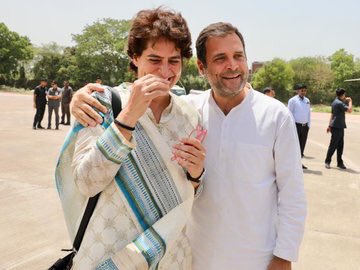 The world got to see a different side of Congress chief Rahul Gandhi on Saturday when he posted a video on Facebook -- featuring him with his sister, party general secretary for eastern Uttar Pradesh, Priyanka Vadra Gandhi.
Rahul and Priyanka were the archetypal brother-sister duo at the Kanpur airport -- where they bumped into each other while waiting to board flights, albeit to two different places.
Priyanka was enroute Unnao and Barabanki and Rahul was headed to Raebareli.
The video has Rahul Gandhi saying he is a good brother because he lets Priyanka travel by big helicopters, even if she has to travel to a closer place while he has to manage with 'little' helicopters.
"Let me tell you what it means to be a good brother. What it means is that I am doing these massive, long flights and I am going in a little helicopter. However, my sister is doing short flights but she is going on a big helicopter," Rahul Gandhi says, in the video.
The sibling banter has oodles of love too, as Rahul goes on to add, "But I love her," with his arm wrapped around Priyanka Gandhi.
In the video, Priyanka's attempts to shush her brother prove to be futile. She, with a muffled laugh, only manages to say: "That is not true. That's not true. I had one hour flight."
Both are later seen obliging the airport ground staff's request for photographs.
Uttar Pradesh East's Youth Congress Wing also shared a couple of pictures of the two party leaders.
Some moments of brother and sister from busy schedules.

Love , affection all in one photo @priyankagandhi @RahulGandhi pic.twitter.com/rajuxv3kMC

— UP East Youth Congress (@IYC_UPEast) April 27, 2019
Rahul and Priyanka have often been seen supporting each other through thick and thin -- be it their personal life or politics. This was, however, the first time the duo engaged in some sibling banter -- and did not shy away from sharing it on the social media.
Priyanka had earlier accompanied Rahul to Wayanad, Kerala, when he filed his nomination for the Lok Sabha election 2019.
She had tweeted: "My brother, my truest friend, and by far the most courageous man I know. Take care of him Wayanad, he won't let you down."
My brother, my truest friend, and by far the most courageous man I know. Take care of him Wayanad, he wont let you down. pic.twitter.com/80CxHlP24T

— Priyanka Gandhi Vadra (@priyankagandhi) April 4, 2019
The Congress chief described Priyanka as his 'best friend' while interacting with Pune students in April, 2019. 
"My sister has been my friend and we understand each other well. If there is a situation of argument, sometimes she backs off and sometimes I do," Rahul said, adding, "we have been through life together."
Recently, when Priyanka entered into active politics, Rahul rallied for her on Twitter and on the field, and led her cheer squad.
UP is central to building a new hope filled & compassionate India. The new UP AICC team lead by Priyanka & Jyotiraditya, will herald the dawn of a new kind of politics in the state. We will offer the youth in UP a dynamic new platform to transform the state.

— Rahul Gandhi (@RahulGandhi) January 23, 2019
ALSO READ | Siblings day: Priyanka, Rahul Gandhi continue to set brother-sister goals