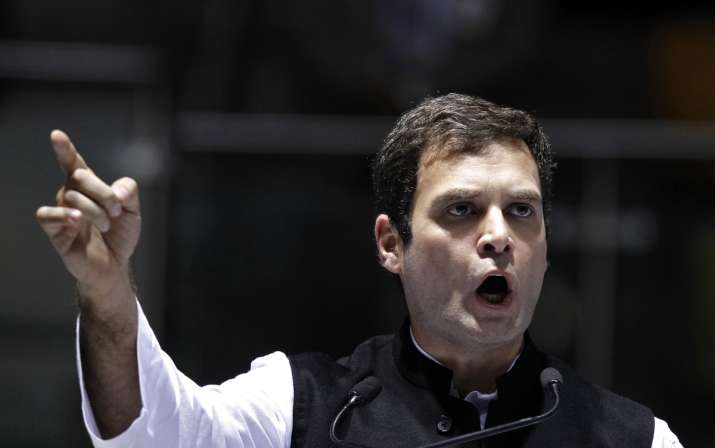 Continuing the party's ante against the central government over proper implementation of the One Rank One Pension scheme following the suicide of ex-serviceman Ram Kishan Grewal, Congress vice president Rahul Gandhi today met several ex-servicemen and targeted Prime Minister Narendra Modi for misleading the country on the issue.
"Just met ex-servicemen, they said it's not about money but justice," said Rahul Gandhi post his meeting with army veterans, dubbing their discussion a fruitful one.
Gandhi further added that the ex-servicemen said if government tells them that they can't do anything, nobody will have an issue.
Targeting Prime Minister Narendra Modi and his government for not living up to the demands of retired army personnel, he said, "Narendra Modi ji should stop lying and start work towards implementing OROP."
"Around 60-80 experienced army veterans were there who said that what Modiji is calling OROP a mere pension enhancement."
This is Rahul Gandhi's third day when he has sought to score one on the central government on the issue. Last evening, the Congress Vice-President was detained by Delhi Police for the third time in two days to prevent him from leading a protest march over the suicide by ex-serviceman Ram Kishan Grewal allegedly due to his grievances in implementation of OROP.
Raising the issue, Gandhi lashed out at Modi government for the way policemen chose to handle the situation.
"The family members of the late ex-serviceman were beaten and dragged. This is not right and the government must apologise," said Mr Gandhi.
The Congress VP had yesterday met Grewal's family in their native village in Bamla in Haryana where the former subedar was cremated. On Wednesday, he was detained here when he went to meet the family of Grewal.
Congress spokesperson Randeep Surjewala, yesterday, had said that Modi government may see politics when Rahul Gandhi and others raise issues involving soldiers over OROP issue, but the party would not remain a mute spectator on it.
Government had in November last year issued a notification on OROP to meet the long pending demand but a section of veterans had expressed their dissatisfaction with it.