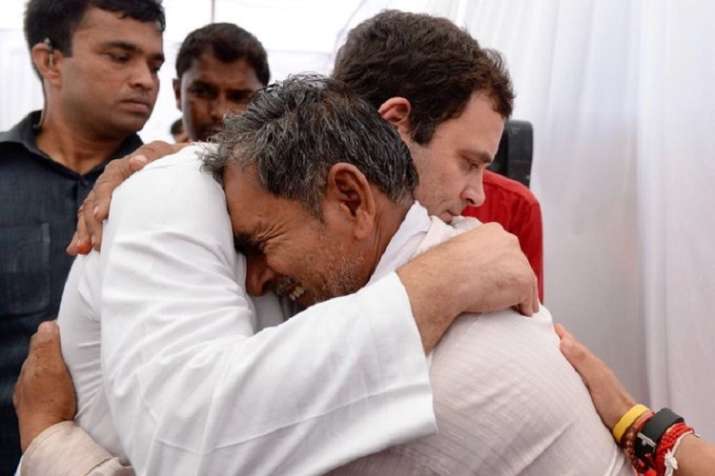 With an eye on the upcoming Assembly elections in the state, Congress president Rahul Gandhi visited Madhya Pradesh's Mandsaur on Wednesday. The timing of Rahul's visit coincided with the first anniversary of police firing on farmers in Mandsaur. Rahul Gandhi addressed a public, dubbed as Kisan Samriddhi Sankalp rally, during his Mandsaur visit which is being seen as an attempt to galvanise support for the Congress in Madhya Pradesh where the BJP has been in power for over 15 years.
Speaking at the rally, Rahul Gandhi announced here that the farmers' loan would be waived within 10 days if his party comes to power in Madhya 
Pradesh later this year. 
"Here Kamal Nath (MP Congress president) and Jyotiraditya Scindia (the state poll campaign committee chairman) are sitting. I want to assure you that within 10 days of coming to power in Madhya Pradesh, the government will waive (farmers') loan," Rahul said. 
Highlights of Rahul Gandhi's speech:
02:48 pm: The Congress party is now contesting elections as one unit, says Rahul Gandhi.
02:37 pm: If voted to power, we will install food processing units near the farmland. We will develop a food chain in Madhya Pradesh will not only create jobs but helps farmers get more money for their products: Rahul Gandhi in Mandsaur.
02:35 pm: PM Modi has betrayed the youth of the country. Forget Rs 15 lakh, PM Modi has not given even Rs 5 to anyone, has he? Rahul Gandhi
02:25 pm: I promise you, we will waive off loans of farmers within 10 days of coming to power, says Rahul Gandhi.
02:20 pm: There is no place for farmers in states ruled by the BJP. Farmers are committing suicide but the BJP government is only helping the big industrialists: Rahul Gandhi in Mandsaur.
Top Congress leaders from Madhya Pradesh including state party chief Kamal Nath, campaign committee chief Jyotiraditya Scindia and other state leaders were also in attendance.
Congress President Rahul Gandhi will address the Kisan Samriddhi Sankalp Rally in Mandsaur to mark the first anniversary of the brutal crackdown on farmers by the BJP Govt in Madhya Pradesh. pic.twitter.com/IWUHAhLX88

— Congress (@INCIndia) June 6, 2018
Rahul Gandhi's 'reach out' event has been organised at a time when farmers in Madhya Pradesh are in the middle of their 10-day 
"Gaon Bandh" (village shutdown) agitation. Farmers launched the agitation on June 1 for various demands including better remunerative prices for agriculture produce and a complete loan waiver. 
Rashtriya Kisan Mazdoor Mahasangh president Shivkumar Sharma 'Kakkaji' had said that BJP MP Shatrughan Sinha, former union finance minister Yashwant Sinha, and former VHP leader Praveen Togadia are likely to join the farmers' stir in Mandsaur on June 8. 
WATCH: Rahul Gandhi attacks PM Modi in Mandsaur