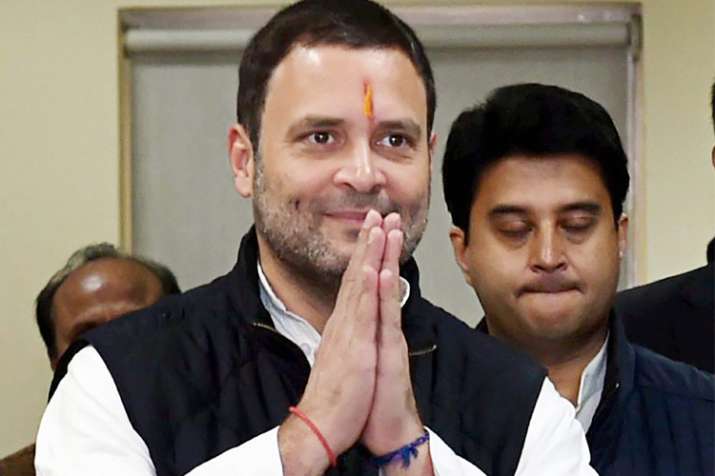 Rahul Gandhi is all set to take over as the Congress President as the Returning Officer M Ramachandran today said that the Gandhi scion is the only validly nominated candidate in the fray for the party top post's election. 
The picture became clear following the scrutiny of nominations filed yesterday on his behalf. 
"There is now only one validly nominated candidate, that is Shri Rahul Gandhi," said Mullappally Ramachandran, returning officer for the election. 
There is now only one validly nominated candidate that is #RahulGandhi left in the fray for Congress president election: M Ramachandran, Returning officer pic.twitter.com/h3TZPZ5Y7D

— ANI (@ANI) December 5, 2017
A total of 89 nomination papers were received, all proposing Rahul Gandhi's name. All the nominations were found to be valid after scrutiny.  
Congress vice president Rahul Gandhi filed his nomination papers on Monday for the post of party president, paving the way for a generational shift in the leadership of the party headed by his mother Sonia Gandhi for record 19 years.
Among those who proposed Rahul Gandhi's name in the first set of nomination papers were Sonia Gandhi, Motilal Vora, Ahmed Patel, Mohsina Kidwai, Kamal Nath, Ashok Gehlot, Mukul Wasnik, Sheila Dikshit, Tarun Gogoi and Puducherry Chief Minister V Narayanaswamy.
Party leaders Manmohan Singh, Oscar Fernandes, P Chidambaram, Sushil Kumar Shinde, Anand Sharma, Jyotiraditya Scindia, Karnataka Chief Minister Siddaramaiah and his Meghalaya counterpart Mukul Sangma proposed his name in the second set of nomination papers. 
For a long time, Rahul Gandhi was said to be reluctant about assuming the reins of the party, and it was only at an interaction with students and faculty of the University of California, Berkeley, in the US in September this year that he said he was ready for the job.
While the imminent promotion of Rahul Gandhi has been hailed by his party leaders emphasising that he is being democratically elected, the development has been panned by the ruling BJP, which has targeted the opposition party over dynasty politics.
PM Modi and other top leaders of the BJP have repeatedly attacked the Congress over the Nehru-Gandhi family's control of the party, contrasting it with the BJP, where, they point out, people from the most modest origins have risen to the top, like the prime minister himself, who sold tea as a young boy in Gujarat.
Rahul's elevation has also been shadowed by a rebellion of sorts from Maharashtra Congress leader Shehzad Poonawalla, who has alleged that the elections for the party president are "rigged". 
Rahul's imminent elevation to the party chief's post was a coronation and not an election by any leans, said Poonawalla, sharpening his attack on Rahul's unopposed election to the post.