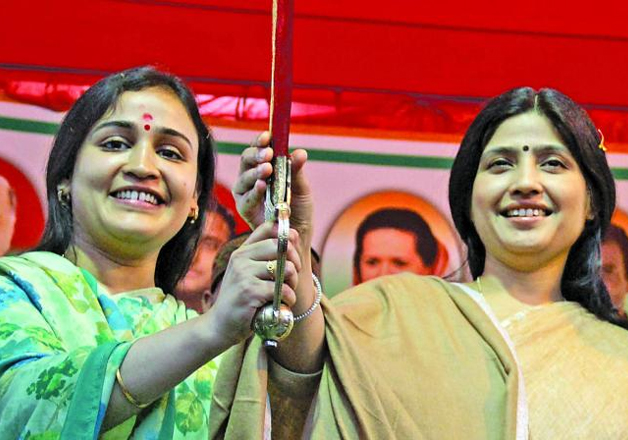 Samajwadi Party MP Dimple Yadav, wife of Chief Minister Akhilesh Yadav, on Wednesday shared dais with her sister-in-law Aparna Yadav, the wife of Mulayam Singh Yadav's second son Pratik and the SP candidate from Lucknow Cantt.
Speaking at an election rally here on Wednesday, Dimple, MP from Kanauj, sought votes for Aparna by listing out schemes and projects initiated by her Chief Minister husband. 
"This is an expressway (Agra-Lucknow) of development, prosperity and improving economy and it will be taken to Ballia (on SP returning to power)...will you support us in it?" Dimple said, asking people to raise their hands in support.
Amidst slogans and cheers, she said that the 'Lucknow Metro project was completed with the blessings of Netaji (Mulayam Singh) in two years' time'.
Dimple also cited Medanta hospital and a cancer institute as other achievements of the Akhilesh government.
"There are so many works of this kind which have led to frustration (among political rivals) and made their blood pressure rise," she said and asked as to what has been done by 'buaji' (Mayawati) with the crowd answering back "elephants, elephants" (BSP symbol).
Attacking the BJP for raising law and order issue in the state, she said, "It hurts when law and order issue is being raised here. This is an issue of entire country be it Maharashtra or Gujarat. I want to ask Uma Bharti, who had raised the issue, to go to Gujarat and save women from BJP hooligans there."
Dimple said that the SP did not believe in doing 'Mann Ki Baat' but instead preferred doing 'kaam ki baat' and 'show our work on the ground'.
Aparna Yadav was denied the party ticket by Akhilesh Yadav when he took over as the SP National President, but fielded her later at Mulayam's insistence. She is pitted against BJP's Rita Bahuguna Joshi in her maiden foray into politics. 
Speaking later, Aparna said that the SP alliance with the Congress was taken in view of the demand by the people. 
Earlier in the day, Mulayam canvassed for votes for Aparna saying, "She is my daughter-in-law... Keep my honour and ensure her victory from the seat."
Lucknow Cantt will go to polls in the third phase on February 19. Results will be declared on March 11.