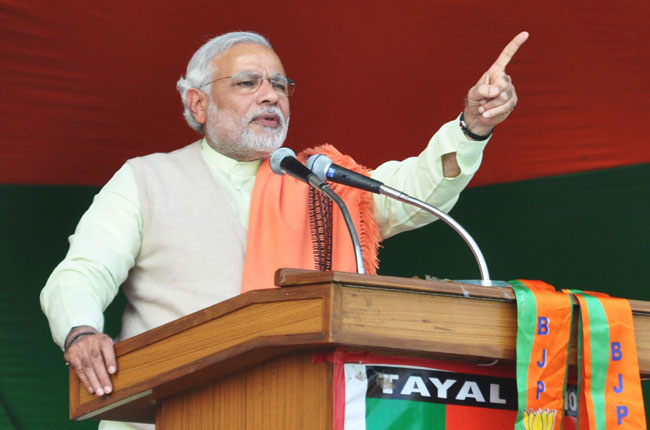 The Congress party  today accused Prime Minister Narendra Modi of talking "senseless things" and pointed out that he is doing so after sensing his party's "imminent" defeat in all five states where Assembly elections are being held.
"Modi has started thinking about kabristan (graveyard) and shamsan (crematorium). This shows he is jittery and has sensed imminent defeat of his party. BJP is not going to form government in any of the five states. Modi has started talking about senseless things," AICC general secretary Mohan Prakash alleged. 
Targetting Uttar Pradesh chief minister Akhilesh Yadav in his rally at Fatehpur recently, the PM had said, "If you create kabristaan in a village, then a shamshaan should also be created. If electricity is given uninterrupted on Ramzan, then it should be given on Diwali too without a break. There should be no discrimination." 
Prakash, who is the in-charge general secretary of the party affairs in Madhya Pradesh, also alleged the Modi government was not ready to provide the details of black money detected through the demonetisation drive. 
Attacking the chief minister Shivraj Singh Chouhan, he said the former has forgotten even "basic democratic norms." 
"Chief Minister has forgotten the basic etiquettes of democracy. Madhya Pradesh Congress Committee (MPCC) chief was attacked during a protest and admitted in ICU. The in-charge leader of opposition was misbehaved with and was not allowed to speak in the CM's presence," he claimed. 
Prakash alleged the government was trying to scuttle the stir planned by the Congress tomorrow by "creating hurdles", wherein the party will gherao the Legislative Assembly building tomorrow. 
According to the MPCC president Arun Yadav, tomorrow's protest is organised against the 12-year "misrule" of the BJP. 
" "Every section of society has been suffering under the BJP's misrule. The family of chief minister is involved in rampant illegal mining. The CM was holding the charge of Medical Education Department when Vyapam (examination and recruitment) scam occurred. Several scams have occurred in state," Yadav alleged. 
He said senior Congress leaders including Digvijay Singh, Kamal Nath, Jyotiraditya Scindia and others are reaching Bhopal today evening to participate in the scheduled protest. 
(With PTI inputs)