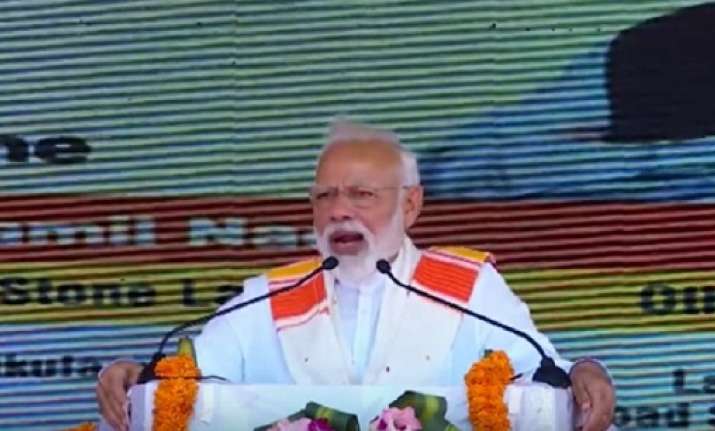 Prime Minister Narendra Modi  addressed a rally in Kanyakumari, Tamil Nadu on Friday.
HIGHLIGHTS:
Watch Video: 
03:50 pm: PM Modi in Kanyakumari: My family is 130 crore Indians. I will live for them, I will die for them. I am not in public life to further a dynasty. I am here to do whatever I can for the growth of India. I seek your blessings to create an India where the dreams of the poorest of poor are fulfilled.
03:45 pm: PM Modi said,"India remembers 2009 and how the DMK and Congress allotted portfolios after the elections. Ministers were being picked not by the Prime Minister but by those who had nothing to do with public service. There was telephone bargaining for minister posts."
03:42 pm: Today we are fulfilling the dreams of Rajaji by creating an economy that is reform oriented and people-friendly. India's ranking for 'Ease of Doing Business' has come risen by 65 places. Now, it is possible to get a loan up to Rupees one crore in 59 minutes: PM Modi in Kanyakumari
03:39 pm: "There was a time when the news reports would read- Air Force wanted to do surgical strike after 26/11 but UPA blocked it. Today, we are in an era where the news reads- Armed forces have full freedom to do what they want," said PM Modi in Kanyakumari.
03:35 pm: PM Modi in Kanyakumari: Sadly, a few parties, guided by Modi hatred have started hating India. No wonder, while the entire nation supports our armed forces, they suspect the armed forces.The world is supporting India's fight against terror but a few parties suspect our fight against terror
03:30 pm: PM Modi said,"Government of India is most sensitive to the safety and well-being of fishermen. Due to sustained diplomatic efforts, since May 2014, hundreds of fishermen have been released by Sri Lankan authorities."
03:25 pm: PM Modi said that India has been facing the menace of terrorism for years but there is a big difference now and India will no longer be helpless in the wake of terror. 
03:20 pm: "From 2004 to 2014 there were several terror attacks.The nation expected perpetrators to be punished but nothing happened," he said.
03:15 pm: PM Modi said," I have flagged off the fastest train, Tejas, between Madurai and Chennai. This is one of the most modern trains and is a great example of 'Make in India' having been manufactured in the Integral Coach Factory of Chennai itself." 
03:10 pm: "I am proud that India's first woman Defence Minister is from Tamil Nadu. It makes every Indian proud that the brave Wing Commander Abhinandan hails from Tamil Nadu," said PM Modi
PM Modi unveiled a series of development projects for Kanyakumari and Tamil Nadu. The foundation stone of a railway line between Rameshwaram and Dhanushkodi has also been laid today.
These projects will play a vital role in enhancing rail and road connectivity throughout the state. 
The prime minister launched various railways projects at Kanyakumari. These included:
Flagging-off of Tejas Express between Madurai and Chennai. Tejas Express will provide direct and faster connectivity between Madurai and Chennai. Equipped with modern amenities, the Tejas Express will benefit number of day time passengers in the section. This will be the second Tejas Express service, first being the one introduced between between Mumbai to Karmali.
Laying of foundation stone for the Restoration of Rail connectivity between Rameshwaram and Dhanushkodi. Rameshwaram and Dhanushkodi are major pilgrimage and tourist destinations in Tamil Nadu. Dhanushkodi railway station was destroyed during the 1964 Rameshwaram cyclone and have been lying abandoned since. Restoration of the rail connectivity in the region, will be a huge boost to the tourism sector and will benefit thousands of pilgrims visiting the area.
Laying of foundation stone for the Restoration of Pamban Bridge (Bridge across Pamban viaduct). The Pamban Bridge provides rail link between the main land and the island of Rameshwaram. The present bridge is 104 years old. The new bridge will replace the old one and will be built parallel to the present rail bridge. The bridge will enhance the tourism potential of Rameshwaram region.
The prime minister also launched various road transport projects in Kanyakumari.
PM dedicated to the nation 2/4 laning of Madurai- Ramanathapuram section of NH-87. The section covers three districts in Tamil Nadu namely Madurai, Sivanganga and Ramanathapuram Flyovers at Marthandam junction and Parvathipuram junction of NH-47 in Kanyakumari district Four Laning of Panagudi to Kanyakumari section of NH-44 
PM also laid foundation stone for four laning of Madurai – Chettikulam Section of NH-785.
These road infrastructure projects will strengthen the road connectivity in various regions in Tamil Nadu. It will ensure safe and fast journey for travellers.