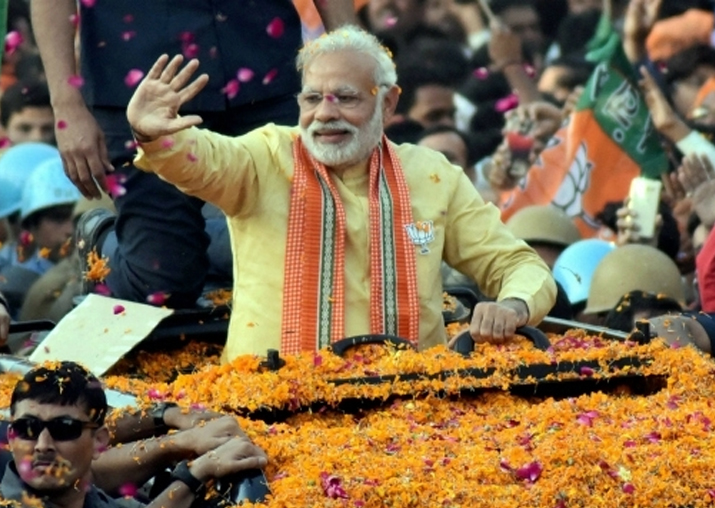 Prime Minister Narendra Modi will begin a two-day visit to his Varanasi Lok Sabha constituency tomorrow, during which he will inaugurate several infrastructure projects and address public meetings. 
Varanasi District Magistrate Yogeshwar Ram Mishra said that Modi would open the second phase of a trade facilitation centre for weavers and handicraft workers in Bada-Lalpur near here on September 22. He will also inaugurate nearly 17 infrastructure projects, including the Ramnagar-Samne Ghat bridge and the Balua Ghat bridge, and lay the foundation of nearly six projects including Ramna Sewage Treatment Plant (STP).
Varanasi Divisional Commissioner Nitin Ramesh Gokarn said that the Prime Minister will dedicate to the nation a community kitchen ('Annakshetra') near the famous Kashi Vishwanath temple. Besides, he will flag off the country's third Mahamana Express train between Varanasi and Vadodara remotely. He will then head for the Diesel Locomotive Works (DLW) guest house where he will meet BJP workers. 
PM Modi is also scheduled later offer prayers at the Tulsi Manas Temple and Durga Temple in Durgakund. He will also release a commemorative stamp on the Ramayana.
On September 23, Modi will inaugurate 'Pashu Arogya Mela' in Shahanshahpur on the outskirts of the city. He will also address a gathering of farmers there. He will also distribute loan waiver certificates to some farmers, whose loans have been waived by the BJP-led Uttar Pradesh government. After addressing the farmers, he will leave for Delhi.