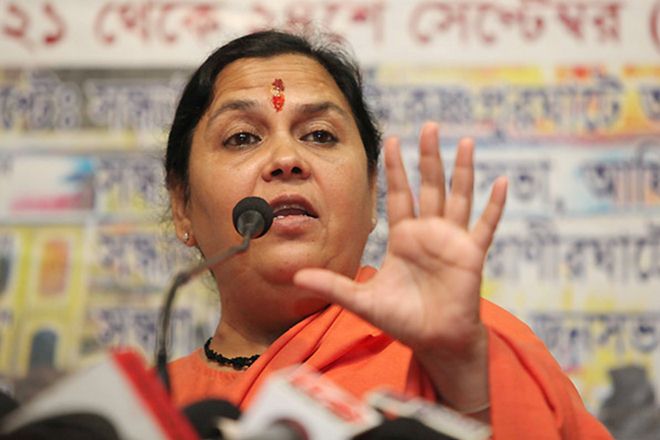 Prime Minister Narendra Modi is being targeted as he comes from a poor family, Union minister Uma Bharti said today and lashed out at the political rivals for accusing him of being "intolerant". 
"Congress has been affected by a feudal mindset for a long time. Similar thought process has now gripped Samajawadi Party president Akhilesh Yadav. The Left, which was banking on the support of the poor, are also dejected as the masses have embraced Modi and his policies," she said at a press conference here. 
The Union Water Resources, River Development and Ganga Rejuvenation Minister exuded confidence that voters would give a befitting reply to these political parties. 
She said there was a wave in favour of BJP and it showed that the paty was growing bigger and stronger than the one seen in 1991 UP assembly election. 
"If Akhilesh had gone it alone in the current assembly elections, he would have definitely emerged as a strong number two party," she claimed. 
On Rahul Gandhi, the Union minister was of the view that the "Congress vice president does something or the other on his own (intentionally or inadvertently) that his 'non-seriousness' becomes evident." 
Bharti went on to claim that out of 105 of the 403 Assembly seats, which Congress is contesting as an ally of SP, 80 would to go BJP's kitty. 
To a question on the SP family feud, the senior BJP leader said it was a "classic case of who had the bigger share of the booty". 
On the row over Modi's "graveyard, cremation ground" remark, the Union Minister said, "I fully endorse the statement of Modi. There is no problem taking welfare steps for the minority community, but it should not be at the cost of the majority. Else, this would amount to minoritism."