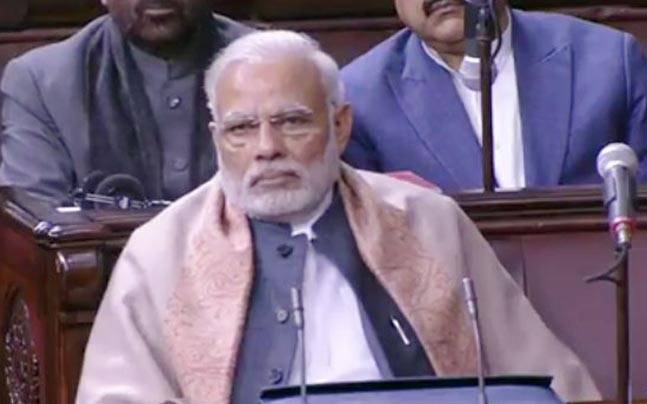 Prime Minister Narendra Modi today remained seated in the Rajya Sabha even after the Upper House of the Parliament was adjourned for 15 minutes.
During these 15 minutes, members from various political parties, including some from the opposition, were seen going to his seat to exchange pleasantries or for a chit-chat.
The Prime Minister reached the Rajya Sabha shortly before the Question Hour at 12:00 hours as questions relating to Prime Minister's Office (PMO) were listed to be taken up today.
However, the House was adjourned after about 15 minutes till 12:29pm.
During this adjournment, Modi remained seated in the House and so were most of the members from both treasury as well as opposition benches.
Cinestar-turned politician Jaya Bachchan (SP) went to the Prime Minister and was seen exchanging pleasantries. She was followed by AIADMK members and a Left MP.
Renowed boxer and member Mary Kom was also seen discussing certain things with Modi.
As members kept meeting him, there were some lighter moments too, as the Prime Minister was seen smiling at times.
As Chairman Hamid Ansari called for the first question of the day at noon, leader of opposition Ghulam Nabi Azad said while the Prime Minister has been addressing his party MPs in Parliament House and even speaking outside, the opposition parties have been demanding his presence during the debate on demonetisation issue.
"We had been demanding for last 15 days (presence of PM). ...We are against blackmoney. We want to speak on this issue but with whom? Our anguish is that the Prime Minister is holding weekly meetings with his MPs in Parliament House. He is also speaking outside. Our demand is that the Prime Minister should be here and listen to us," Azad said.
When the senior Congress leader also alleged that the PM has remarked that the opposition parties support black money holders and said it was a "big allegation", BJP members protested the remark.
Law and IT minister Ravi Shankar Prasad and urban development minister M Venkaiah Naidu insisted that the House should continue with the debate on demonetisation, which started on November 16, the first day of the Winter session.
Ansari also said that the debate has not been concluded and called the listed speaker A U Singh Deo (BJD) to start.
Sharad Yadav (JDU) said he too agreed that the debate should continue, but it "cannot be one-way traffic" and demanded that the Prime Minister should remain seated in the House all through the discussion.
"Why are you assuming that he (PM) will not participate," Ansari asked the opposition member.
As Singh Deo rose to put forth his points on demonetisation, Congress members started raising slogans like "Pradhan Mantri Mafi Maango (PM should apologise)" from the aisles.
Naidu said the Prime Minister is here and the unfinished debate should be resumed. However amid din, the House was adjourned for 15 minutes.
(With PTI inputs)