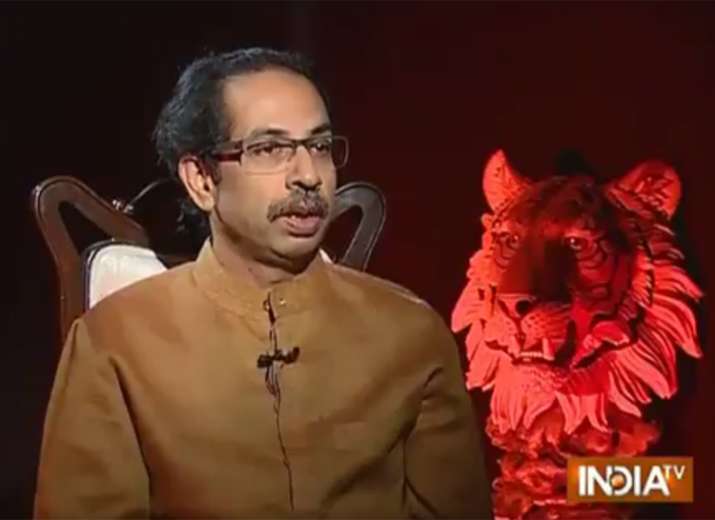 In a scathing attack against Narendra Modi, Shiv Sena chief Uddhav Thackeray today said that the Prime Minister should give ideas to the country instead of issuing threats.  
"Prime Minister should give new ideas to the country and not threats. It does not behove a PM to threaten political opponents. If he wants to threaten someone, he should do so against Pakistan and not his political opponents," Uddhav Thackeray said in an interview with India TV.  
Without naming Modi, the Shiv Sena chief also targeted him over his "56-inch chest" remark and said it does not matter how broad one's chest is if the individual does not have a heart.  
It's Shiv Saniks which help ppl of Mumbai, not @BJP4India, says Sena Cheif Uddhav Thackeray. Watch #UddhavOnIndiaTV with @ajitanjum at 6 pm pic.twitter.com/jDOzDmFPQL

— India TV (@indiatvnews) February 14, 2017
Relations between the Bharatiya Janata Party and its long-time ally Shiv Sena have turned bitter in the past few years. 
Yesterday, a party spokesperson claimed that the Shiv Sena ministers are only waiting for Uddhav Thackeray's direction to submit 
their resignations from the Maharashtra government and people "unhappy" with the BJP rule are ready for mid-term polls. 
#UddhavOnIndiaTV :Will support BJP till my last breath if they waive farm loans in Maharashtra on lines of their UP poll promise. pic.twitter.com/feXXvA48pL

— India TV (@indiatvnews) February 14, 2017
Both the parties are locked in a bitter campaign for the high-stake BMC elections, scheduled on February 21. Last month, Uddhav announced the end of the 25-year BJP-Shiv Sena alliance in the BMC. 
The Maharashtra strongman also took shots at the government for its decision on demonetisation. "I do not have any personal ill will against Modi but if you think a policy is going to ruin the country, you oppose it," he said. 
"How many rich people died during the note ban? Nearly 200 people died and one of them was a BSF jawan," he added.  
.@BJP4India has given entry to goondas. I don't say so, media reports have it: Uddhav tells @AjitAnjum. Watch #UddhavOnIndiaTV at 6 pm pic.twitter.com/yRaY1zrXev

— India TV (@indiatvnews) February 14, 2017
He went on to question the government's claim on the gains of demonetisation and said it did not bring back black money and failed to stop fake currency and terrorist attacks.  
"When the Army conducted surgical strikes on Pakistan, I supported the government. But look at what has happened after that. Our soldiers are still dying and there is no let down in terror attacks from Pakistan. The PM must answer on these issues," he said. 
Uddhav also ripped into the BJP's famous 'achhe din' slogan of 2014 Lok Sabha elections and said it was only a promise which was yet to be fulfilled.
It is obvious who was creating differences within SP family: Uddhav Thackeray's veiled attack at @BJP4India on @AjitAnjum's question . pic.twitter.com/RCfIILL1wg

— India TV (@indiatvnews) February 14, 2017
"I am bored of BJP's double standard of politics. Modi only promised 'achhe din'," he said. 
Answering questions on the shaky alliance between Shiv Sena and the BJP, Thackeray said, "It was not an alliance, it was relationship based on common ideology. For 25 years, we have been together but you left them during bad times. You (BJP) do not want Shiv Sena which believes in Hindutva, you want Mufti Mohammad, Mehbooba Mufti. We came together only for Hidutva."  
Shiv Sena chief Uddhav Thackeray mocks PM Modi, tells @AjitAnjum '56-inch chest useless if he doesn't have a heart'.#UddhavOnIndiaTV at 6PM pic.twitter.com/KqfFn8CKRd

— India TV (@indiatvnews) February 14, 2017
Talking about the crucial Uttar Pradesh Assembly elections, Thackeray said was full of praises for incumbent Chief Minister Akhilesh Yadav and said he should get another term. 
"What is wrong in my support for Akhilesh if he has done good work for UP? When I asked who was behind the differences in the family, I was told that the culprit is obvious," Uddhav said in a veiled attack at the BJP. 
Shiv Sainiks rush for help during tragedies, not BJP workers:Uddhav on demand for more seats and Mayor's post in BMC polls .#UddhavOnIndiaTV pic.twitter.com/Bw1cnaCnk6

— India TV (@indiatvnews) February 14, 2017
The Sena chief further alleged that the BJP had rolled out a red carpet for criminals and goons in local elections. On a question on Sena's stand on maximum seats in BMC polls and its insistence for the Mayor's post, Uddhav retorted saying it was the Shiv Sainiks who rushed to the help of people at times of tragedy. "Not one member of the BJP turns up," he shot back.