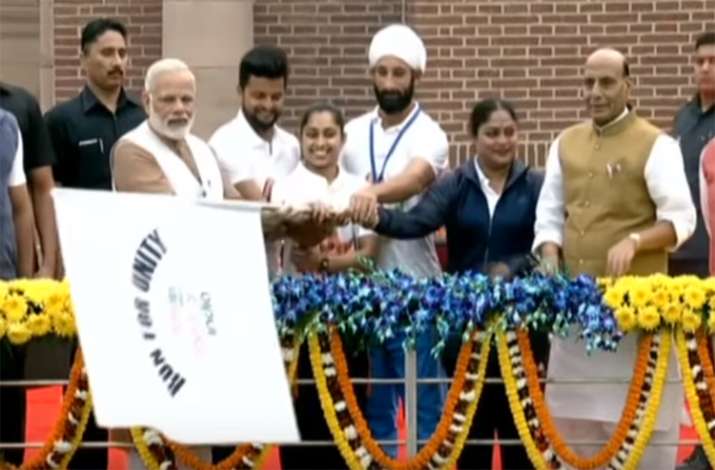 Prime Minister Narendra Modi today led the nation in paying rich tributes to Sardar Vallabhbhai Patel on his 142nd birth anniversary. Flagging off a run to commemorate the birth anniversary of the "Iron Man of India", Modi slammed "previous governments" for ignoring Patel's legacy of uniting the country.
Flagging off the 'Run for Unity' at the Dhyan Chand Stadium here, Modi said, "People earlier tried their best to ensure that the contribution of Sardar Patel was forgotten and diminished. But the people and the youth of India respects him and his contribution towards the building of our nation."  
"India is a country full of diversity. 'Unity in Diversity' is our speciality," Modi said. 
The 'Run for Unity' to mark birth anniversary of the first deputy Prime Minister saw the participation of a large number of people, including sports personalities like Sardar Singh, Deepa Karmakar, Suresh Raina and Karnam Malleswari. 
The 1.5 km run here came to an end near the India Gate C-Hexagon-Shah Jahan Road radial.
Saluting Sardar Patel on his Jayanti, Modi said his momentous service and monumental contribution to India can never be forgotten. 
The prime minister said everyone in the country is proud of Patel's contribution to India before it attained freedom and during the early years after the nation became independent. 
Modi said: "Using his skills, and determination Sardar Patel saved India from the problems that emerged soon after Partition. He ensured India did not remain split into small princely states." 
He also emphasised that "our country should remain one". "The country that Patel has given, retaining its unity is the responsibility of all Indians." 
"Therefore, all generations should know how he maintained that unity. We are celebrating his birth anniversary as 'Rashtriya Ekta Diwas'," the Prime Minister said.
Earlier, President Ram Nath Kovind, Vice President M Venkaiah Naidu, Prime Minister, and Home Minister Rajnath Singh visited Patel's statue located at the Parliament street and offered floral tributes. 
Kovind remembered Patel as "A symbol of integrity and integration, Iron Man of India," in the tweet he posted after paying floral tribute at Patel Chowk here. 
Naidu too, paid floral tribute to Patel, who is credited for the ensuring integration of the nation post-Independence.
Congress pays tribute to Patel on his birth anniversary
The Congress party on Tuesday paid rich tribute to Sardar Vallabhbhai Patel on his 142nd birth anniversary saying his "uncompromising efforts" kept India united after Independence.
"Remembering Iron Leader Sardar Patel, whose uncompromising efforts were instrumental in keeping India united after Independence," the party said in a tweet.
The party also posted alondside a picture of Patel with his message: "The speeches of the Sangh leaders are poisonous. It is a result of this venom that Mahatma Gandhi has been assassinated."
Paying tribute to Patel, Congress vice-president Rahul Gandhi tweeted, "An embodiment of integrity & strength, Sardar Patel was one of the architects of Idea of India. My tributes to him on his birth anniversary."
The central government observes October 31 all over the country as a day of special occasion to foster and reinforce the government's dedication to preserve and strengthen unity, integrity and security of the nation by celebrating it as a 'Rashtriya Ekta Diwas' to commemorate the birth anniversary of Sardar Patel. 
Several union ministers, senior officials and others also participated in the event. 
Hockey player Sardar Singh said 'Run for Unity' is a commendable initiative to showcase country's unity and integrity. 
Gymnast Deepa Karmakar said she was proud to be part of the run, which is being organised to remember the contributions of Patel in unifying the country. 
Patel, the first Deputy Prime Minister of India, was born on October 31, 1875 in Nadiad, a small village in Gujarat. He died on December 15, 1950.
Popularly known as the 'Iron Man' of India, he was conferred with the highest civilian honour, Bharat Ratna, in 1991 for his services to the nation.
(With agencies)