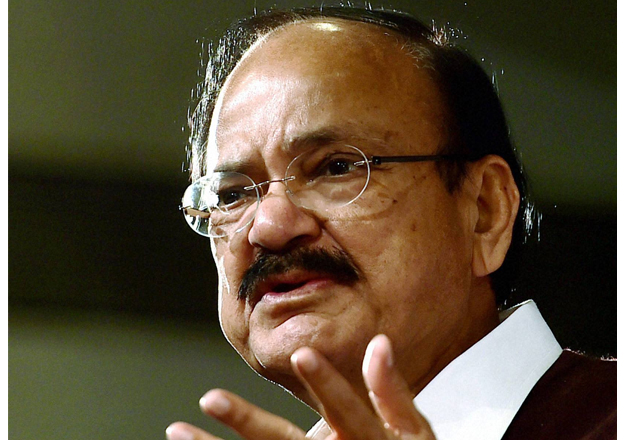 Prime Minister Narendra Modi has emerged as the poor's 'messiah', senior BJP leader and Union Minister Venkaiah Naidu said here as he accused the Opposition of shying away from a debate on demonetisation issue in the Parliament.
"Modiji is very popular in the country and after this step he has become further...immensely popular. The poor of the country are looking at Modi as their messiah...We cannot understand why the Congress and its friends are raising a ruckus (in Parliament)," Naidu told reporters here on Friday.
"Congress is now saying that the PM should come only then the debate will go on, demanding JPC probe. There is an attempt to divert from the issue. It does not have facts and public opinion is turning against it. They do not want Parliament to function and seem to be moving in that direction," Naidu added.
Parliamentary Affairs Minister Ananth Kumar also attacked the Opposition as both the Houses were adjourned for the day on Friday.
He also rejected the opposition's demand in the Rajya Sabha that PM Modi be present in the House and in the Lok Sabha that the debate be taken up under a rule that entails voting, saying these are aimed at diverting from the issue and accused Congress of taking a "U-turn" after the Upper House ran on the first day of the Winter Session.
"Congress was rattled by smooth functioning of the Rajya Sabha on the first day as it was not interested in a fruitful discussion. It seems Congress and its allies do not want Parliament to function," Kumar said.
Kumar said that it was 'strange' that the opposition was not ready for discussion after debating the issue for a day in the Rajya Sabha.
"I don't think on substantial issues of black money and corruption any political party has different opinion. There might be concerns about implementation of demonetisation and we are ready to listen to their (opposition) concerns. We are eveready for discussion and appropriate authority at appropriate time from the government will intervene and respond to their concerns. We all know only way forward is discussion but its strange after discussing the mater for one day in Rajya Sabha opposition is not ready for discussion," he said.
Naidu noted that the Prime Minister has intervened during various debates in the Parliament earlier, but it cannot be a practice as the precedence is of ministers concerned replying on the behalf of government.
Both the Houses of Parliament on Friday saw heated exchanges between the government and the opposition over the demonetisation issue, leading to disruptions of proceedings and eventually adjournments for the day.
With PTI Inputs