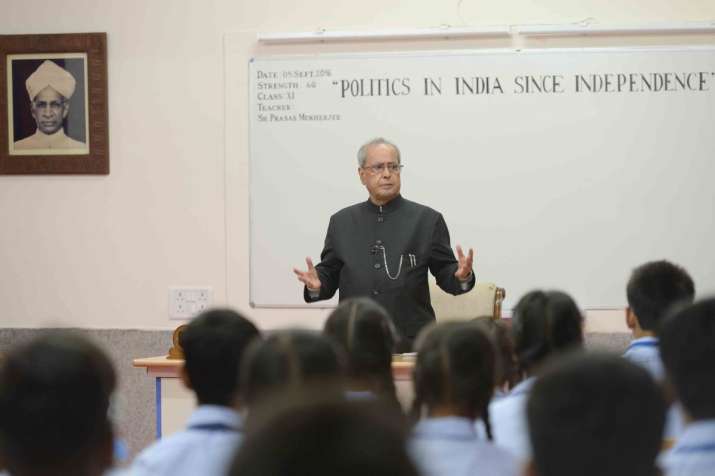 President Pranab Mukherjee on Monday supported the idea of conducting simultaneous elections to Parliament and state Assemblies and said that "all participants of the political spectrum" can brainstorm on how to tackle this issue.
Responding to questions by students during a Teachers' Day programme, the President said India has "proved the mettle" in successfully implementing political democracy and the Election Commission can "put its mind" in changing the Code of Conduct so that it does not disturb the polls.
The President was teaching students in the school inside the President's Estate as part of the second edition of his 'Pranab Sir's class'. The special session was held to observe 'Teachers Day' with students of Class XI of the Delhi government-run Dr Rajendra Prasad Sarvodaya Vidyalaya.
He said that it would be better to have the Lok Sabha and the Assembly elections at the same time and added that the legislation could also see if all other elections could be conducted during the mid-term.
The proposal was first made by Prime Minister Narendra Modi who raised the issue of continuous elections on different platforms hampering governance.
Recently, in an interview with CNN News 18, the PM had said, "Leaders of political parties, when they meet me, emphatically tell me let us please keep elections aside. They tell me why don't we club assembly elections with Lok Sabha polls. And why don't we hold local body elections as well during that time, so that the entire election process gets over in a week to 10 days time and then for five years the country runs uninterruptedly.
"All parties will have to unitedly do this. Government alone can't do this. Election commission has the lead this effort and all parties have to agree on this. I can have my own ideas but I can't do anything about it. This has to be done democratically," Modi had said.
The Election Commission has also supported the idea of holding simultaneous elections. In a letter sent to the Law Ministry in the first week of May, the poll watchdog officially expressed its willingness to conduct Lok Sabha and state polls together, The Indian Express reported in June.
"In so far as the Election Commission is concerned, the issues involved in holding simultaneous elections are not insurmountable for it. If there is political consensus and will across the board, needless to say that the Commission supports the idea of considering simultaneous elections," the two-page letter said.