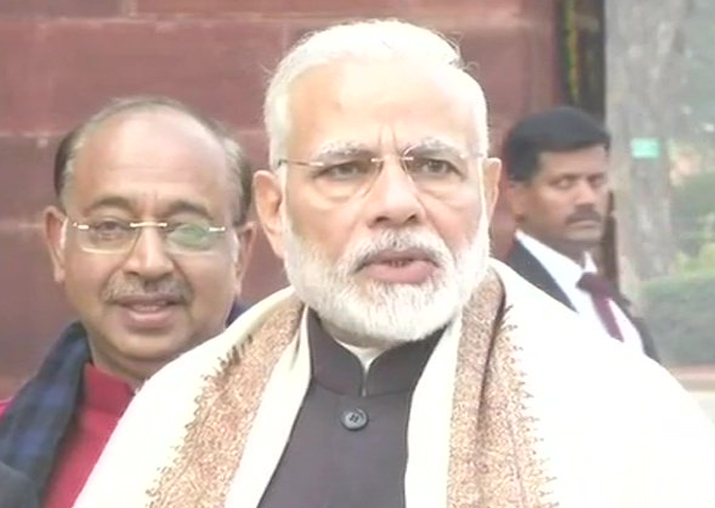 Outlining his government's agenda for the Budget Session of Parliament, Prime Minister Narendra Modi on Monday reached out to the opposition making a 'humble request' to help pass the bill on instant triple talaq.
Speaking to reporters outside Parliament, Modi said that despite his government's efforts and people's expectations, the Triple Talaq Bill could not be passed in the last session. 
Here are the highlights of his address:
# I make a humble request to all parties that we can pass the bill on Triple Talaq. We have to pass this bill and protect the Muslim women.
# It would be a New Year gift for Muslim women. In the last session, despite a Supreme Court ruling, we could not get the bill passed in Parliament. 
# We should rise above politics and make most use of our healthy system of parliamentary committees and have proactive discussions
# This budget session is important. The world is extremely optimistic about India. The budget will add new vigour to India's development and will fulfil aspirations of people.
# We should make most use of our healthy system of parliamentary committees and discuss aspects of the budget. Let us think about the well-being of rural India, our farmers, Dalits, tribal communities, Mazdoors.
The triple talaq bill passed in the Lok Sabha in the last winter session of the Parliament will be in focus in the Upper House of the Parliament.
Long pending issues including the Transgender Persons (Protection of Rights) Bill, 2016 and the Surrogacy (Regulation) Bill, 2016, will be discussed in the Lower House.
The Budget Session of the Parliament began today with the speech of President Ram Nath Kovind.
The Budget will be presented on February 1.